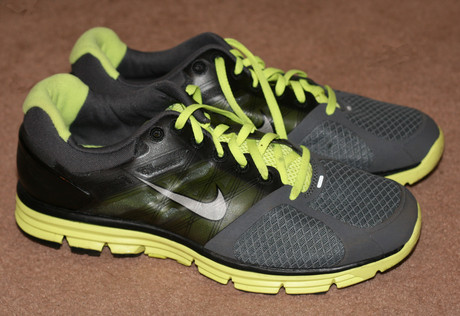 I've recently acquired a pair of Nike Lunarglide+ 2 running shoes, thanks to some quick decision making and a carefully timed run during the Nike Grid challenge back in November. These are the first Nike running shoes I've owned, and they certainly are very different – both to look at and to wear – than the standard "white/stripe padded" shoes I normally have, such as my Adidas adiStar Salvations.
The first thing that struck me – after noticing that they are luminous yellow and black – no white bits at all! – is they are very light indeed, the sides in particular are very thin, made in part seemingly from a single layer of translucent plastic, with no padding. Contrasting this, however, the heel is very firm, with a hard plastic "cup" on the outside and a bit of padding on the inside. At the top of the heel is a significant bit of padding. Having occasionally got blisters here from hard-heeled shoes, I was quite pleased to have this. The front of the shoe again is very thin, with little padding, and so looks very breathable.
I wouldn't want to wear these shoes in an orienteering race, or even in a muddy field, as they are so light – the apparent lack of stitching means I wouldn't want to subject them to rough terrain that would scratch the side of the shoe.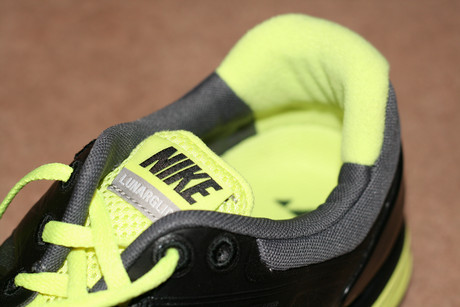 The back of the shoes have a small vertical reflective strip which is useful for being seen, particularly at night in urban areas, which just so happens to be the time of day and location that my club, SLOW, runs its regular Street-O events. There was one earlier this week, so I wore the Lunarglides to give them a road test. Other SLOW members were also sporting their Grid-won shoes, including some customised Nike+s with their initials on the back – nice! Anyway the race proved to be an ideal road-test, the terrain being purely tarmac, very hilly (Crystal Palace) and with lots of sharp corners allowing for some good grip testing.
Despite the shoes not being particularly padded, the heel is quite deep and they are extremely comfortable to wear and run in. I had no problems at all – after a few minutes of getting used to the lightness of the step. The initial part of the race was steeply downhill, on a tarmaced path which was damp from recent rain. The grip seemed to be fine on the shoes, with no slipping on the potentially treacherous slope. On the flat road they also seemed very responsive, and they coped with the twists and turns of the course – feeling fine after an hour of running.
To sum up, I think these shoes are excellent road shoes. I wouldn't want to take them on terrain, but I have plenty of road training coming up for a marathon later this year, and will be alternating these with my Salvations as much as possible. Crucially, the light design and breathability means they should remain comfortable when running in warmer conditions this summer. Hopefully they should stay in one piece until then too.