I was invited by organiser Landor LINKS to speak at the Walking and Cycling Conference which took place in Manchester last month. The conference included a good focus on bikeshare, and it was a good time for the UK-focused bikeshare industry to pause and take stock of a busy 2019. Three UK-focused bikeshare operators – Freebike, Beryl and Nextbike UK – were present, and it was good to chat with the respective teams and find out how the year had gone and their thoughts for the following year.
MicroMAAS and the UK
I presented on "MicroMAAS" data – first defining MicroMAAS as mobility share services that you can pick up (i.e. bikeshare and escootershare) and outlining the different types of bikeshare popularly available:
I then talked about the "why" of open/standardised data in the sector:
and the "where" – Europe is well behind the US here: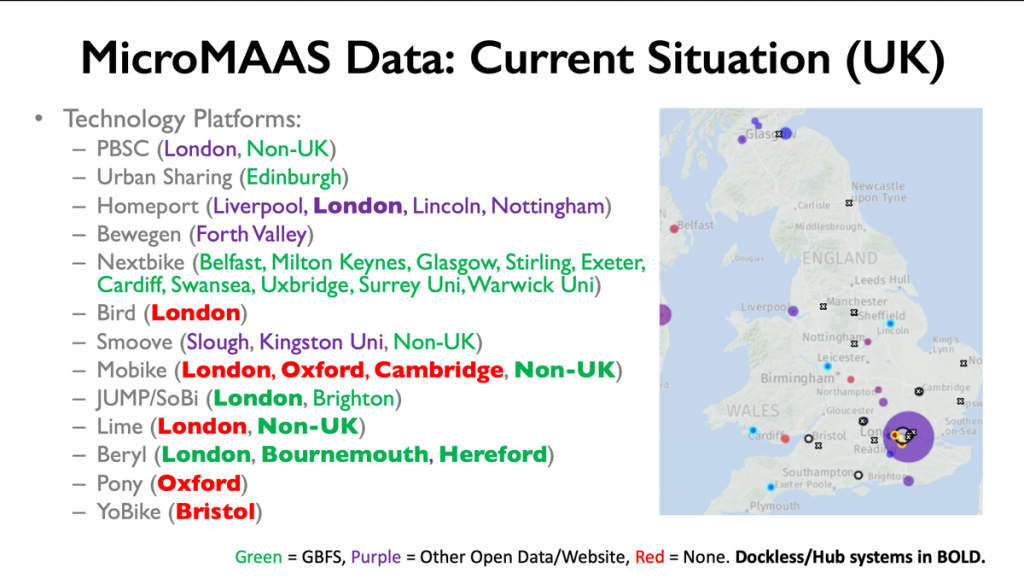 I mentioned CDRC's excellent and huge collection of largely dock-based bikeshare dock data, available through the CDRC Data Service: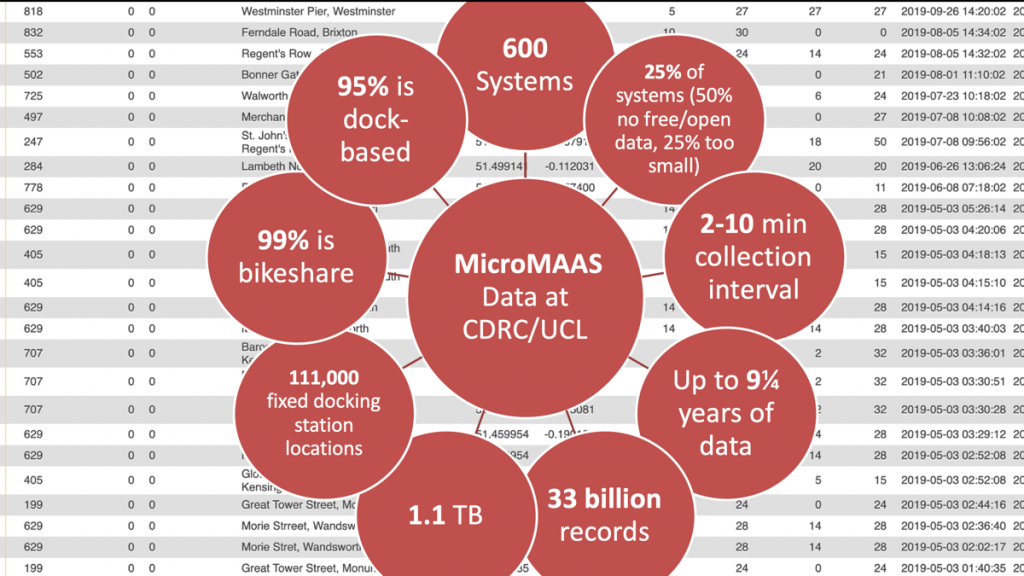 The last part of my talk touched on managing such systems, including key players in analytics platforms:
I also outlined and bemoaned and the (little) progress towards fourth generation bikeshare systems where payment is fully integrated into how other transport modes are paid for, rather than being app-siloed. Right now we are in a commercial battle, with providers looking to integrate vertically rather than horizontally – largely due to the weak management of the sector by local authorities here in the UK – who seem happy to take money and less happy to regulate the sector properly and effectively so that MicroMAAS will actually be a net benefit to the wider UK streetscene:
Beryl Update
Of the other talks, I was particularly interested in Beryl's – especially they included some data on their first half-year of operations. UK bikeshare usage data is still rather sparse so it was good to see these numbers in a public presentation. The London operation is very small – they quickly moved out of Enfield after the system was heavily abused and little used there – and the City of London "square mile" only has limited need for journeys within it:
London's on-street available fleet is typically around 144 (and around 100 currently) rather than the 400 mentioned here. With approx 5 months between launch in July and the early December presentation, this suggests around 30 rides a day or just 0.2 rides/bike/day (as a rule of thumb, for a non-electric system, over 1 is just about OK, over 2 is good and over 3 is really good – for electric you need 2+ due to the extra costs of the bikes and retrieving them to charge). As you can't really do a point-to-point journey in the City that is longer than a mile and a bit, this would explain the average journey being just over a mile – half that of Bournemouth.
This may improve with their extension to Hackney that is happening now – so far they have moved into Shoreditch and Hoxton in the south of the borough, but in time if they move into parts unserved by Santander Cycles then they become the cheap, manual alternative to Uber's JUMP here.
However their numbers for Bournemouth and Hereford – the latter helped by a generous public subsidy – are much more positive. Bournemouth launched in mid-June and averages around 300 bikes (although 140 bikes currently) – so 1 t/b/d, and Hereford launched at the end of July, averaging around 160, or 1.3 t/b/d. Bournemouth is suffering from theft though.
JUMP
I'm also hearing good numbers coming out of Uber's JUMP system in London – so it is possible for commercially-led bikeshare systems to work here in the UK, it just takes a lot of experimentation, effort and investment.
See also Bikesharp, which is my blog exclusively dedicated to the minutiae of the UK bikeshare market.