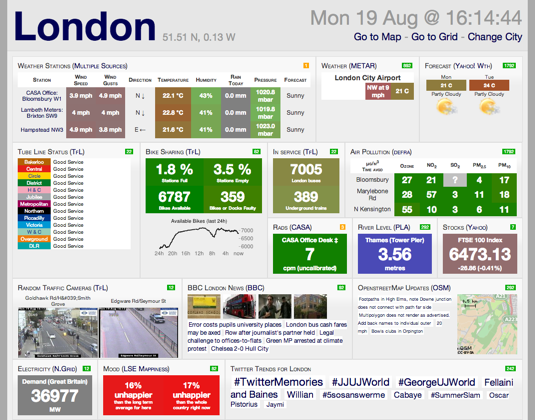 I was lucky enough to spend an amazing four years (from July 2010 to August 2014) as a researcher/software developer at CASA, a multi-disciplinary research & development (R&D) lab at UCL, where I had flexibility and resource to be able to produce all kinds of geographic visualisations.
A novel way of mapping the live docking-station information for bikeshare systems. Bike Share Map was born out of the combination of a General Election data map I had created earlier in the year, and the launch of the London bikeshare system, which had a data API and a not-so-great official map. I was lucky enough to win a EU Open Data competition prize in 2011 and travelled to Brussels to accept it.
GEMMA: 2011
GEMMA (Geospatial Engine for Mass Mapping Applications) was a 6-month JISCgeo project, working with Steven James Gray to create tools to collect, visualise and produce PDF maps from OSM data and other sources. GEMMA is no longer available online, as technology platforms have evolved, but there are some blogposts about it, here.
CityDashboard: 2012
A live, ticking, colour-changing visual data dashboard for London and other UK cities, collecting from various open and free sources and presented as a website. The principal output of a short NeISS/JISC-funded project at UCL CASA. It was created myself, with prototyping by Duncan Smith and some additional coding by Steven James Gray, Richard Milton and George MacKerron, all at UCL CASA.
The project is not being actively maintained or developed, but remains online for interest and for reference. The UCL Museums version came a little later and was funded by a UCL Beacon grant. CityDashboard was presented at a conference at UIC in Chicago in 2014.
I was lucky enough to receive follow-on funding to build out Bike Share Map to visualise hundreds of city bikeshare systems, around the world. I also produced video versions for the London Data Table and for an exhibition at the London Transport Museum, and attended and presented at the VeloCity conferences in Vancouver (2012) and Vienna (2013). The continuing popularity of Bike Share Map sparked my interest in shared micromobility which continues to this day.
EUNOIA: 2013
This was an EU project to catalogue and drive forward the use of microsimulation for Land Use Transport Models (LUTM), particularly MatSIM. My work involved gathering the history of the field to date, surveying LUTM users across Europe, and exploring the potential of MatSIM for traffic simulations in London, Zurich and other large cities. The project notably kicked-off in Majorca, with later meetings in Segovia and Brussels, and MatSIM training in Berlin.
Following on from one of my pre-CASA projects to visualise the UK 2001 Census, this project flexibly and efficiently mapped outputs from the UK 2011 Census. It was part of the BODMAS (Big, Open Data: Mining & Synthesis) grant received by Professor James Cheshire.
The latter part of the DataShine project was carried out at UCL Geography, until 2015, when it became part of CDRC Maps, as part of the Consumer Data Research Centre, which I have worked at ever since.
Other CASA Web Projects (Online for Now)
Other CASA Web Projects (Now Offline)
Although these are offline (due to legacy OpenLayers 2 code, using an old database, non-secure HTTP links or other expired dependancies), they normally have a blogpost here on oobrien.com with a screenshot.
London Bus Route Map
CASA Visitors Welcome Map
OSM Compare (completeness vs OS Meridian roads) (2010)
Lonely Buses (use bus stop data to find missing OSM roads)
Scenic Photos Data Map
Hubway (Boston Bikeshare) Journeys by Demographic Map
Output Areas 2011 Map
Output Area Classification (OAC) Versions Map
Heatmap of geolocated Twitter tweets in London
Santander Cycles journey flows as a hint.fm/wind-style wind map