Is it possible to visit all 32 London boroughs (& the City of London) in a day? How quickly can you do it?
The "London Borough Challenge" has been on my to-do list for a while, and I finally got around to tackling the challenge on Saturday.
For my first attempt, and so possibly the World Record (if no one else has done/beaten it) the time was: 9 hours, 25 minutes, 23 seconds. It was 92km of cycling in 10 stages + 103km on 9 train journeys.
My initial thoughts were to do a route involving tube/trains, stopping at a station in each borough. Kind of a borough version of Geoff Marshall's famous Tube Challenge. However I thought that would be a bit underwhelming for a "tour of London" – just railway platforms rather than the public realm. Also, it was a lovely, warm day, and spending the whole day cooped up in various trains and tunnels didn't appeal. So, I decided to do a bicycle + train combo. If you don't have a bike, you can probably substitute the cycling sections with a combination of walking, jogging and buses/trams. I'd not recommend a bikeshare bike, as if you are cycling nearly 100km, you want something that is comfortable for you for those kinds of distances.
Challenge rules
Visit all 32 boroughs + the City of London, take a photo in each one to prove the visit.
Each photo must be taken from within the borough and must be of a street name sign with the borough name and/or borough crest/logo on it.
Where a borough does not have street name signs with the borough on it, then a photo of a borough-owned street name sign with an immoveable object beside it (e.g. anchored waste bin, grit bin) with the borough name/logo on it is OK. (e.g. Bromley, Sutton)
Truncated borough names (e.g. "Barking" for Barking & Dagenham) are OK.
You can also have local neighbourhood welcome signs if they also contain the borough name/crest/logo (e.g. Corbets Tey in Havering, and Pinner in Harrow) as long as it's not a "welcome to the borough" sign (as you are not standing in the borough when you see the sign!) and as long as it's not on the edge of the borough (same reason).
Note that none of the 9 photos in this blogpost qualify – click on the blue pins in the map above to see the actual qualifying photos.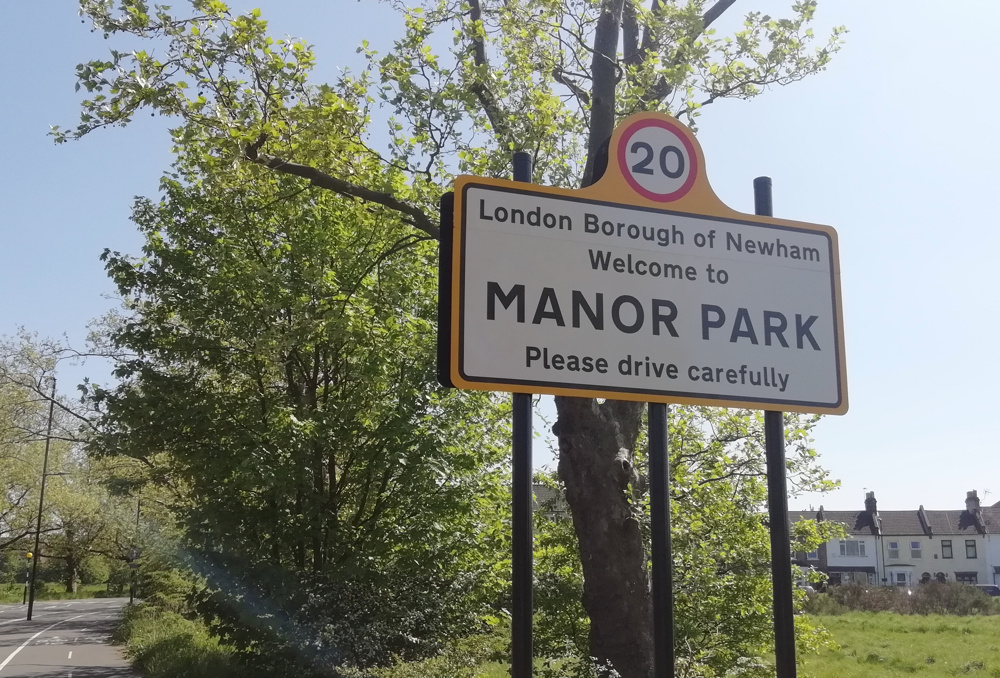 My route was constrained by the inevitable weekend railway engineering works. The main effect this had, on the day, was very limited services out of London Bridge station. The line through Forest Hill was closed, as were the lines through/near Lewisham. This would make the south-east London section difficult, with a long cycle needed from the Greenwich line down to Bromley, rather than a train dropping me near the Greenwich/Bexley/Bromley intersection; and then another long cycle down to Croydon rather than the London Overground dropping me there. I decided to cycle from Abbey Wood, on the Greenwich line, as I wanted to have a look at the brand new station there (it is a very nice new structure!) and thought this would avoid Shooters Hill – it did, but I forgot about Knee Hill – not quite as big, but very definitely a hill.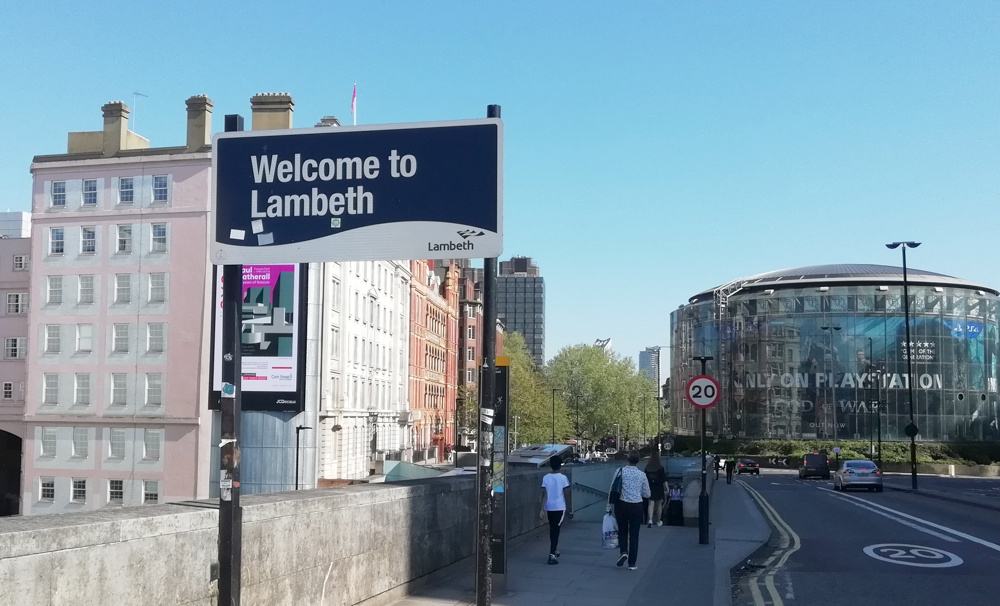 The main issue of the day was that I ran low on my GPS battery and phone battery. The former died completely about 20 minutes before the end of the challenge, so I missed tracing my final route into Barnet. The phone looked like it was on its way out before the end too, but by using airplane mode I was able to eek out the last bit of charge. This however meant I couldn't risk using it for navigation in the latter part of the day. The location of the sun was useful as a rough compass indicator, but as I only started my challenge at around 2pm, it got dark during the latter part of the challenge and so I suffered some navigational problems thereon. In particular, my route out of Wimbledon station was very poor – I thought I was heading northwards alongside Wimbledon Park whereas I was heading southwestwards. You can see a dramatic and accidental curve in the map above. I similarly took a poor route from Richmond Park to Richmond proper, and wasn't sure of the boundary lines around Turnham Green station, hence some double-backing around here while reading street signs for borough information! (it was nice to see this artwork there though.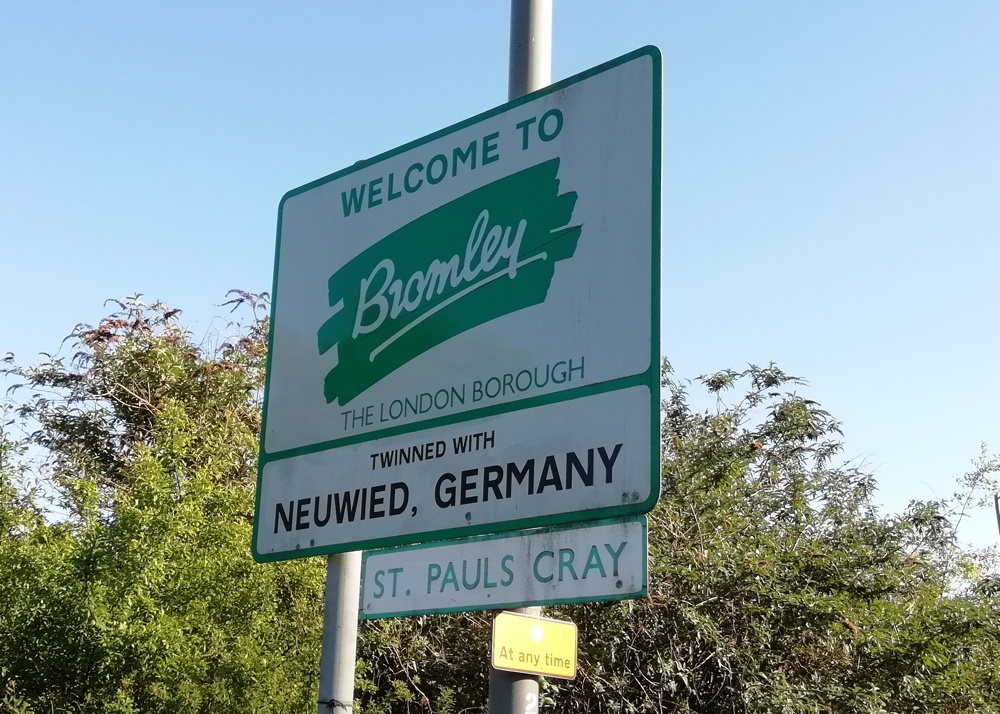 So, I am sure 9 hours, 25 minutes and 23 seconds is easily beatable. Maybe it will be much faster if done by car, at night? A route much shorter than 195km should be possible, a squint at the map suggests the shortest route would not be much less than 138km. Maybe going via Crystal Palace (five boroughs within a few hundred metres), if you can make it up that hill? 33 stops works out at less than 20 minutes per borough though, and actually finding a "qualifying" sign took quite a while in places. I think I got lucky for some boroughs. Waltham Forest appeared to have no labelled signs, but literally as I was exiting the borough, having cycled right through it, I found a very old street sign with the borough name on it. I also think I was very lucky to find a Wandsworth labelled sign. For four boroughs (Bromley, Sutton, Havering and Harrow) I never did find a street name sign with the borough name on it.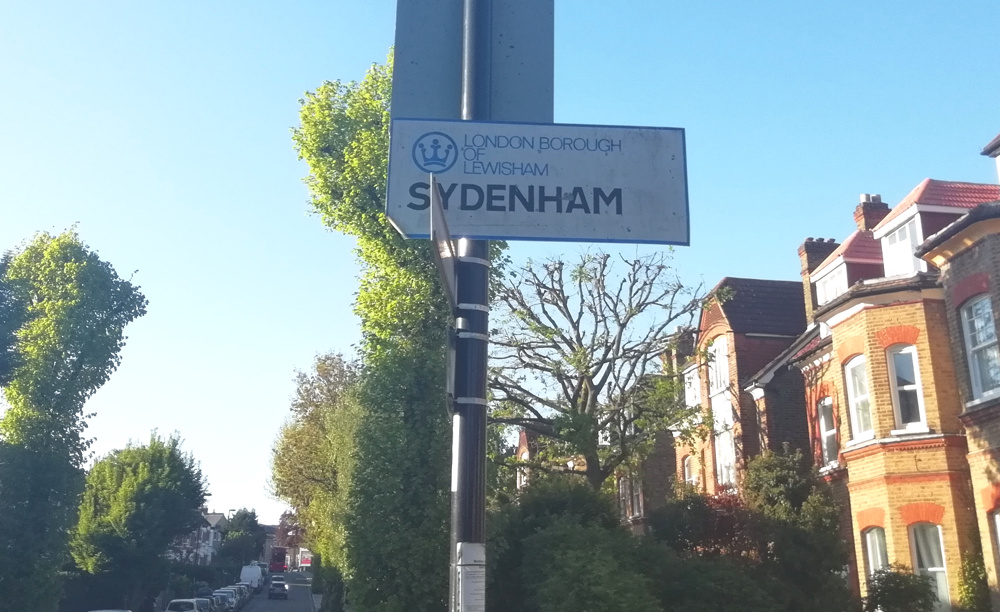 Challenge miscellany
I only spent a couple of hours planning the route and checking to see what trains were running.
I did not do any research into which boroughs would typically have borough names on their street name signs. This proved to be a problem right at the start – which was going to be around the IKEA at Tottenham. A fruitless search for names in this pretty bleak part of London, until I headed westwards into more residential areas.
I scribbled down rough timings, planned route (town-to-town) and boroughs. The rough rule that any journey in London on public transport takes half an hour seemed to hold true. My timings suggested a start at 14:00 and finish at 23:45. I started a little earlier and quite quickly made up half an hour by doing the central London leg at speed. I spent the rest of the day consistently 20-30 minutes ahead. I was keen to maintain this so that I could get through Richmond Park before the gates were locked – I forgot that it's actually open 24 hours for pedestrians/bikes.
I used a Google MyMaps map (not the one above) loaded with a KML of the boroughs, to check where I was and where a nearby borough boundary was.
I used OSMAnd loaded with an offline OpenStreetMap map of London for detailed navigation when I needed it.
Total cost was just £9.75 for the day – £8.30 on an Zone 1-6 paper travelcard with railcard, and £1.45 on a fizzy drink in Sutton (it was a hot day!)
Trains generally ran to time, except for (guess who) Southern from West Croydon to Sutton which was around 10 minutes late.
OMG the Thameslink loop around Sutton is really very slow – although quite scenic.
I don't know what on earth is going on with the road layout around Barking but it is a complete mess.
The only place I suffered from impatient (but not rude) drivers was, quite reasonably, as I was going up Knee Hill. Very steep, busy, no pavement…
I probably wouldn't recommend cycling around Crittal's Corner on the Bexley/Bromley border – and especially stopping on the slip to take a photo of the sign (above).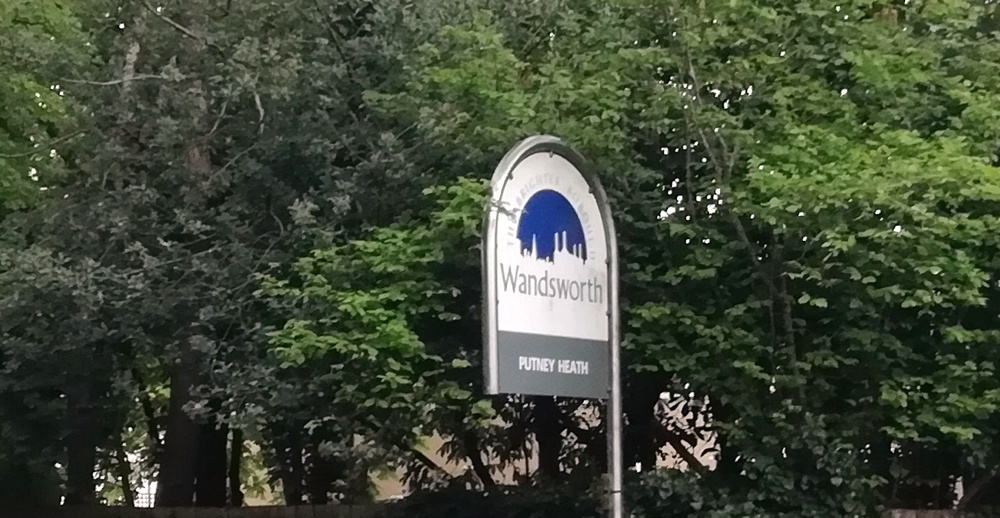 The challenge was a nice way to see a cross-section of London. However I did only spend a few seconds in some boroughs (Camden, Ealing) so it perhaps wasn't a representative tour of the whole metropolis. The most intense full-on London experience was at/around Barking station, particularly as the street market was on. The nicest bit was, for sure, cycling through Richmond Park at sunset, with its lovely views and herds of deer. Uxbridge Road in Harrow, less so (although it was dark and I was rushing at that point). It was good to find some new cycle infrastructure – the new tracks along Forest Road in Waltham Forest and from Aldersbrook to Manor Park, for example. 0 I only got to cycle right across a few boroughs – Waltham Forest, Bexley, Hammersmith & Fulham and Harrow. A few – Havering, Sutton and Brent, were just jump out of the train, cycle around a bit, jump back on the next train. I was happy not to have to spend too long in Harlesden. But London is a city of villages and several that I visited were pleasant – Wimbledon village, Wood Street, Sydenham, Alderbrook. Upminster seemed nice enough. Spitalfields was buzzy as ever. Even Abbey Wood appears to be having an embryonic rebrand as Abbey Wood Village – hello there Crossrail.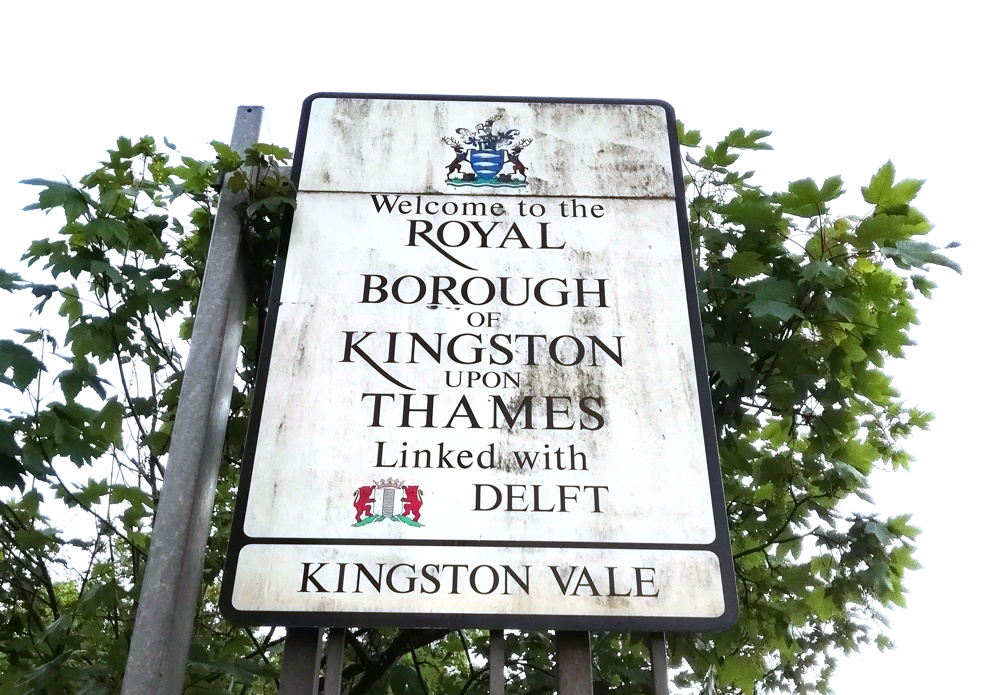 Route narrative/timings
| | | |
| --- | --- | --- |
| Time | Borough | Notes |
| 13:50:05 | Enfield | Start right by the Haringey border, having found a suitable sign. |
| 13:54:20 | Haringey | Followed by a nice cycle through Tottenham Marshes and then along Forest Road and Wood Street. |
| 14:25:57 | Waltham Forest | Having cycled right through the borough, found a named sign a few metres pretty much on the boundary. |
| 14:27:30 | Redbridge | A very old sign, for the same road as above, and didn't find any more. |
| 14:37:07 | Newham | By Manor Park station, with the borough crest on the sign. |
| 14:55:06 | Barking & Dagenham | A sign for "Borough of Barking" which counts as it's part of the borough name, even though the sign is for the pre-1965 Barking borough. |
| 15:02 | c2c train | Air conditioned 🙂 from Barking fast to Upminster. 9 minutes for 12km. |
| 15:19:30 | Havering | A borough without its name on its street name signs, but found a Welcome to Corbets Tay sign with the borough name/logo on it. |
| 15:35 | c2c train | From Upminster to Liverpool Street, via Barking and Stratford. 27 minutes for 25km. |
| 16:04:25 | City of London | Like all inner London boroughs, the City of London name appears on all street name signs. |
| 16:06:58 | Tower Hamlets | |
| 16:10:15 | Hackney | |
| 16:11:39 | Islington | |
| 16:17:44 | Camden | Only in borough for a few seconds. |
| 16:22:17 | Westminster | |
| 16:27:46 | Lambeth | The Welcome to Lambeth sign appears at the other end of Waterloo Bridge from the Thanks for Visiting Westminster sign. |
| 16:29:16 | Southwark | |
| 16:41 | Southeastern train | From London Bridge to Abbey Wood. 27 minutes for 16km. A slow train. It was the part of a special route to Orpington via Erith and Lee (!). I could have gone from Waterloo East and got off at Woolwich, but I fancied visiting the rebuilt London Bridge and Abbey Wood stations which are both impressive soaring lit-wooden-ceiling structures. Plus there was a train at Abbey Wood with the "Elizabeth Line" roundel (not "TfL Rail") on it 🙂 |
| 17:13:35 | Greenwich | A long way from Greenwich itself, but not too hard to find a sign. |
| 17:20:57 | Bexley | Weirdly, Bexley borough street name signs seem to have a "no dog mess" symbol as the "logo", rather than a council symbol or crest. |
| 17:49:49 | Bromley | |
| 17:52 | Thameslink + Southeastern trains | St Mary Cray to Bickley, and then Bickley to Penge East. 18 minutes for 12km + 6 minute change. In Bromley borough for the entirety of this leg. |
| 18:26:21 | Lewisham | Most street name signs without the borough name, but found this one near a roundabout in Sydenham. |
| 18:54:36 | Croydon | Almost no street signs with the borough name on them, so continued cycling past Selhurst, until finally found one outside West Croydon station. |
| 18:59 | Southern train | West Croydon to Sutton. A bit delayed. 12 minutes for 7km. |
| 19:25:27 | Sutton | Another borough which hides its identity on its street name signs. So found a fixed bin. Had a nice looking shopping parade though with the borough logo on its gates, and a lovely clock outside the station. |
| 19:37 | Thameslink train | Sutton to Wimbledon. On the Thameslink loop – very slow. 21 minutes for 9km. |
| 20:03:30 | Merton | Pretty every sign has the council name/logo on it. |
| 20:22:11 | Wandsworth | With phone battery running low and it getting dark, I didn't realise I that I did a huge accidental 180-degree loop from Wimbledon Park into Wimbledon village instead of Southfields. Crossed into Wandsworth eventually and found this very old sign, almost entirely hidden by branches – so did some gardening. |
| 20:36:26 | Kingston | Followed by a twilight cycle through Richmond Park. |
| 20:51:39 | Richmond | All street name signs mention the borough. |
| 21:04 | London Underground tube | Richmond to Turnham Green. 9 minutes for 5.5km. |
| 21:17:57 | Hounslow | All signs have the borough name on them. |
| 21:19:00 | Ealing | Another "easy" one. Only in Ealing borough for a few seconds. |
| 21:23:16 | Hammersmith & Fulham | The borough finishes just beyond this sign. |
| 21:31:21 | Kensington & Chelsea | As you might expect, this Royal borough loves to put its name on all the signs. |
| 21:43 | London Overground train | Shepherd's Bush to Willesden Junction. 9 minutes for 4km. With a 10 minute wait for this one too, I probably should have cycled it. |
| 21:59:02 | Brent | Bizarre spiral route out of Willesden Junction, walking at track level, with the platform (and train) beside/above you, along a very long walkway. Quick loop through, as all street signs have "Brent" on them, to find the other entrance to the station. |
| 22:11 | London Overground train | Willesden Junction to Hatch End. 20 minutes for 13km. |
| 22:39:20 | Harrow | No street name signs mention Harrow, but it does have neighbourhood welcome signs. |
| 22:47:30 | Hillingdon | Didn't realise this at the time (no map), but I'd followed the edge of the borough around. |
| 23:15:28 | Barnet | Tedious and unpleasant cycle along a surprisingly busy Uxbridge Road. They don't expect cyclists this far out. |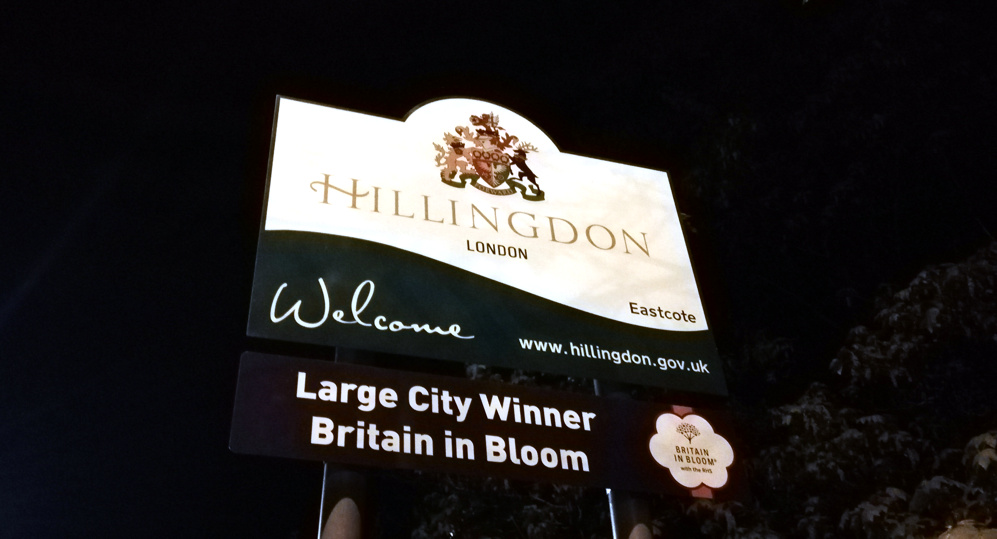 Epilogue
To get back to the start, I took advantage of the travelcard and the limited carriage of bikes on the Northern Line to go two stops from Edgware to Colindale and then one stop from Finchley Central to East Finchley (a suprisingly long way) thus managing a rare single journey involving both branches of the northern line in the same direction. It only makes sense if you look at the line geographically. Which left for an exciting finish for a weary cyclist down Muswell Hill. 🙂