On Monday I spent a lot of time (over 13 hours) cycling between 268 docking stations in London. It was for the All the Docks challenge, as part of Team East, with Joe (Be.EV CCO, and ex-ofo) and Jeyda (fettle CEO). There was also an all-stars Team West and Team South (including Voi, TIER, Zwings, and CoMoUK people – see this blog post for the announcement), and, across the three teams, we aimed to visit all the docking stations in London in a day.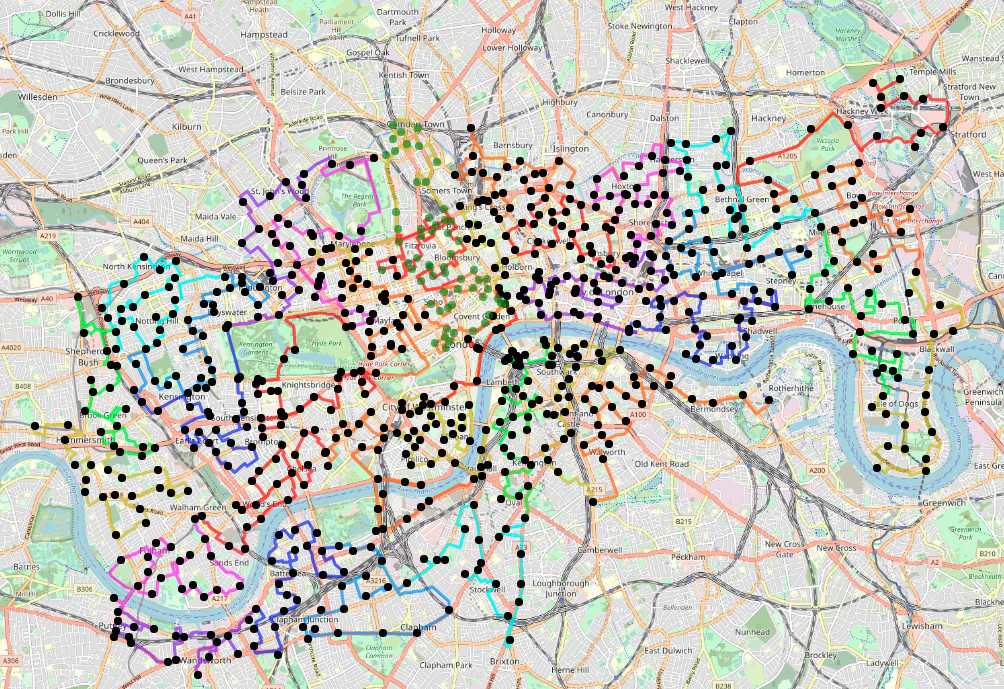 Team East: By the numbers
Three challengers: two on Santander Cycles (one docking at every point) and one on their own bike with navigation mount.
Started at 08:51, after getting breakfast nearby.
Two stops for food (at 13:30 and 20:15) plus a shorter stop to buy snacks (at 16:30).
Three lifts (which weren't big enough for three bikes!)
Finished at 22:21 – 13.5 hours later
GPS says 119km although it added a lot 0f noise around Canary Wharf and a few other places, so I think the actual distance was more like ~113km.
268 docks visited (the 266 assigned to Team East, plus the common finish docking station, plus a short bonus leg to the docking station outside the finish pub).
This works out as visiting a docking station, on average, almost exactly every 3 minutes, for 13.5 hours.
What went wrong
It did take a bit longer than predicted. The target time had been 12 hours (11.5 hours + 30 minutes in breaks) and our average moving speed of 11.9kph was quite close to the 12.5kph in a prediction algorithm I put together. The two hour difference was due to food stops and comfort breaks (75 minutes in total), along with that 0.6kph speed difference (30 minutes extra) and the three legs we I had to jog (15 minutes). Our dock/undock speed got pretty good after Joe (who did 80% of the docks/undocks) got into a rhythm.
My personal bike (which I had planned to ride as a support to the team leader on the bikeshare bike, to do the navigation) had a flat tyre right at the start, which meant I had to hop on a Santander Cycles bike for the entire route. I had a big freak-out when I discovered this (no bike shops in Westfield Stratford City, challenge starting in half an hour) but it was OK in the end – I bought a £20 monthly membership in the app, on the spot, and the ride was more comfortable than I expected, but it did mean I needed to keep fishing my phone in and out of pockets at every docking station.
I also twice forgot to dock at least once an hour, twice, so got two £1.65 overage charges).
A result of my phone (with map) not being mounted on my bike, was I was constantly pocket-tapping the team version of the map as I kept grabbing my phone. This mean I kept ticking off other teams' docking stations by mistake, particularly Team West's list. The team version needed a UX tweak so the checkboxes' labels were not tickable, or have separate tick-pages for each team.
The only significant routing error was at Import Dock in Canary Wharf (no regular Google Street View allowed there, so I couldn't see in advance) where we ended up at road level, but the docking station was below us, at water level. Taking the bikes down an escalator in the new Crossrail/Elizabeth line station, got us to where we wanted to be.
Proper food stops need to be built in to the schedule, rather than hoping we accrue time and then spend it when we need it. We got hungry in places were there weren't any quick eateries.
Three legs had to be jogged by some rather than cycled by all, due to infrastructure problems, although we still docked or undocked at each. At the first one, both Joe's keys stopped operating and the dock was full so I couldn't dock (with my third account) either. So I cycled to the next docking station, docked, ran back and undocked. A later problem dock wouldn't release any bikes so I handed mine over and jogged to the next station to get another one. Finally, three from the end, the terminal disconnected after docking successfully, so I ran back to the previous one and went from there to the penultimate one.
One or both of our pair of keys got temporarily blocked several times. With one blocked, using the other, single key resulted in a mandatory 30-second delay before you are allowed to start another journey. Each time, a call to Santander Cycles support fixed the blocked key quickly. Santander Cycles does have a responsive and effective telephone support operation.
One docking station appeared to have been vandalised, with the "slot" on most docks crushed so that the bike couldn't be docked. Eventually we managed to find one where we could squeeze it in.
Routing people near the finish, then up a hill and away, 10 hours in to the challenge, is demotivating, and coupled with the late time, I think this is what made Team West's decision for them. A long, clear run into the finish line without big loops away, is preferable! In general, my design for West and East was a long wiggly route up and down, towards the finish, from the outermost parts of the network. By contrast, Team South went near the finish quite early on, before a long tour out to Putney, finally coming back along the river, back into town. I think this latter overall shape of the route probably is better for keeping people going to the end.
A few of awkward wrong-side-of-road docking stations on dual carriageways had to be visited, although generally with traffic lights, we got across OK. The worst link was a short section of The Highway followed by a right turn. This is a horrible road, and the others in Team East took the pavement instead (but were further encumbered by barriers left up from the London Marathon the day before). In retrospect, a walk-bikes route back across a new private development's plaza would have been better.
A few roadworks made getting to some docking stations tricky. In the end, Team East had four blocked links – resurfacing by the Orbit sculpture in the Queen Elizabeth Olympic Park (where we just cycled through the construction site), park re-modelling in Shoreditch Park (which necessitated using park paths to get around it), Angel Street was closed for building construction (so we went through Postman's Park instead) and finally St Bride's Street was completely blocked for resurfacing, but the Poppin's Court tiny alley diversion was a lot of fun.
The low point was at around 7pm, as the sun set, calculations suggested all three teams were well behind a nominal 9pm finish, and it looked like we would have to bail to make it to the pub. There was also some concern about what it would be like doing this kind of frantic point-to-point riding at night in London traffic, with tired legs, although in the end the traffic levels died down quickly after rush-hour. We also hadn't had dinner and a proposed food stop at Angel was still 90 minutes away. A conference call between teams was held and a final decision at 9pm would be taken.
We approached the Somers Town Bridge at around its historic 9pm closing time (not sure if it actually does still close) so decided to take a long diversion around.
In the end, just after 9pm, we passed by our team lead's home (25 from the end) and, with one eye on a very early start the following day, he opted to stop there. Team West had already quit and were arriving at the pub. Team South decided to double down and keep going. Their final stage along the spectacular Embankment at night, with views across the Thames, may have helped with their decision! We carried on for a final section around King's Cross and, in the end, quite quickly down to the finish at LSE.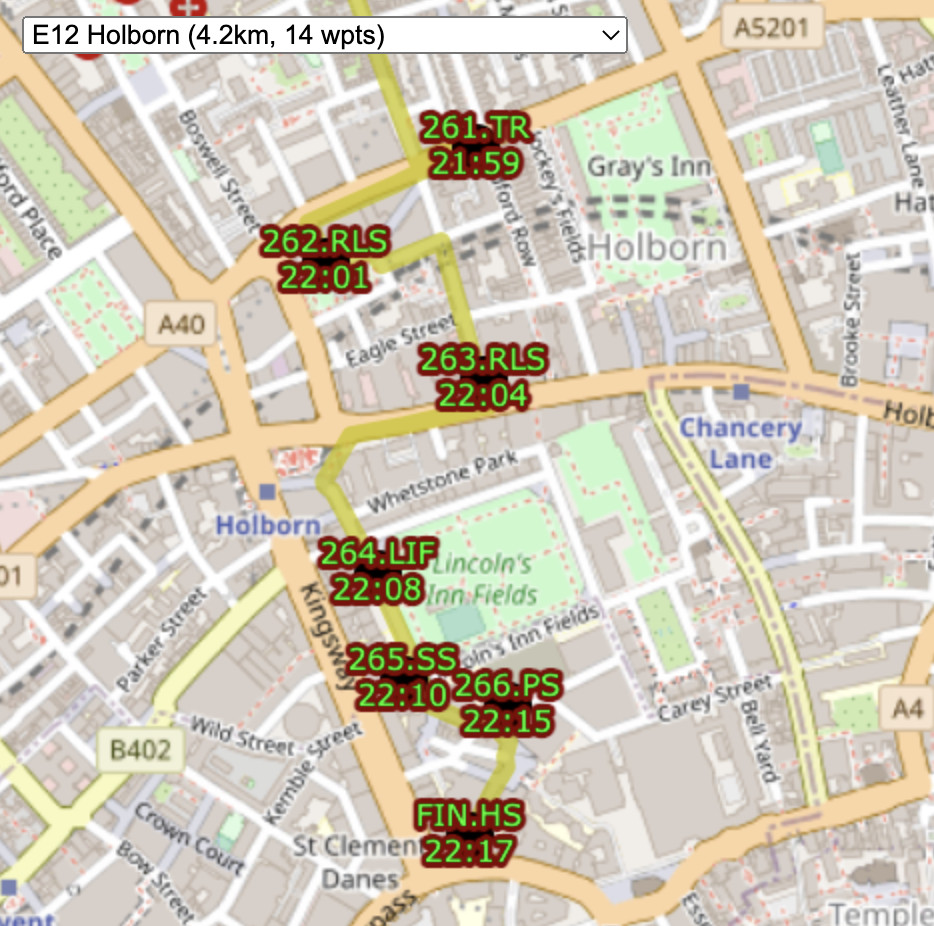 What went well
By and large my manual routes worked pretty well. For Team East, there were only a couple of banned turns and one wrong-way street encountered, easily fixable on-the-fly. The teams were pretty happy with my routes, which is good!
Careful planning tried to minimise the number of docking stations on the other side of busy roads, even if this slightly lengthened the route.
I was pleased I could include some of London's best cycle infrastructure without lengthening the routes. The Olympic Park, Victoria Park, Regent's Park, Hyde Park, Kensington Gardens, Lower Thames Street and Victoria Embankment (CS3). It was nice, on the day, to unexpectedly discover some of London's newer protected cycling infrastructure on roads I knew well from pre-protected days.
After a while, we honed our docking/undocking technique and Joe got it down to around 15 seconds. Every 10 seconds saved per dock is 45 minutes saved on the challenge as a whole.
Considering the amount of docking/undocking operations we did, we had very few failed locks/unlocks or disconnected terminals.
My gadget batteries worked out OK. My old Garmin GPS wristwatch lasted 9.5 hours (albeit with no HR or Bluetooth), and then the last bit of route recording was done directly on my phone using Strava in the background. I only used GPS on my phone sparingly, to occasionally locate myself on the web page, but after 11.5 hours my phone's battery had got down from 95% to 3% so I kept it plugged into a power bank on a cable, for the remainder, and it was fine. Jeyda's Wahoo's battery was absolutely fine throughout.
We did visit all 268 docking stations, even if it took us nearly two hours longer than planned.
We all stayed in good spirits as a team, and generally stuck together, although we did split up a bit near the end as different people drove forward to keep the pace going.
I thought we might need an operations person at a desk, checking for changes, handling social media and directing/motivating teams, but actually it worked fine with everyone on a bike.
We crossed the finish feeling fine – it's the day after that I felt shattered.
Notes for a next time
General consensus in the pub was that having four teams (N, E, S, W) doing around 200 docking stations each, would be more fun and would allow more pub time, food time etc. Team West ended their challenge after around 200 docking stations when it was clear they would struggle to get to the pub before closing time if they continued (and as they had to loop away from near finish at that point). Team South made it just after last orders so Team West bought a round for them in advance. But a decent length social after such an exhausting day is important.
Finishing at the docking station outside the pub would have been better (I had decided against it because the distances across the three teams wouldn't have matched as well).
Hopping on and off the bike for each dock gets tiring. Particularly as so many of the docking stations are on pavements and facing away from the road, resulting in many kerb hops, jolts and awkward manoeuvres. Possibly alternating the docking between two leads would make this better?
You definitely need one person to have a bike-mounted smartphone or navigation device (Jeyda's Wahoo device worked pretty well) to do efficient navigation on a mounted stand rather than in/out of pocket.
Having two keys (on two accounts) is essential. As well as cutting down the dock/undock time, it can deal with full docking stations.
Santander Cycles finally launched electric bikes into their fleet, a few days after our challenge. These would be good for support riders, if too expensive for the lead rider (£1 surcharge per leg!)
I/we would definitely invite people to accompany us for a stage or a few legs. We did have Ilma from Fettle along for the City of London legs which was motivating (and she filmed a mini-movie/montage of us)
I'm glad we missed the morning rush-hour and the evening rush-hour while we were in the City was pretty intense too.
Some routing tweaks would be good. See a future blog post here for some technical details on how it was routed and how it could be made better.
Finally, I think the mapping/recording could be automated more. I liked my live-updating map, it was the result of a few evening's simple Javascript coding, but there's definitely more that I could do – leaderboards, current location pin, ETAs etc.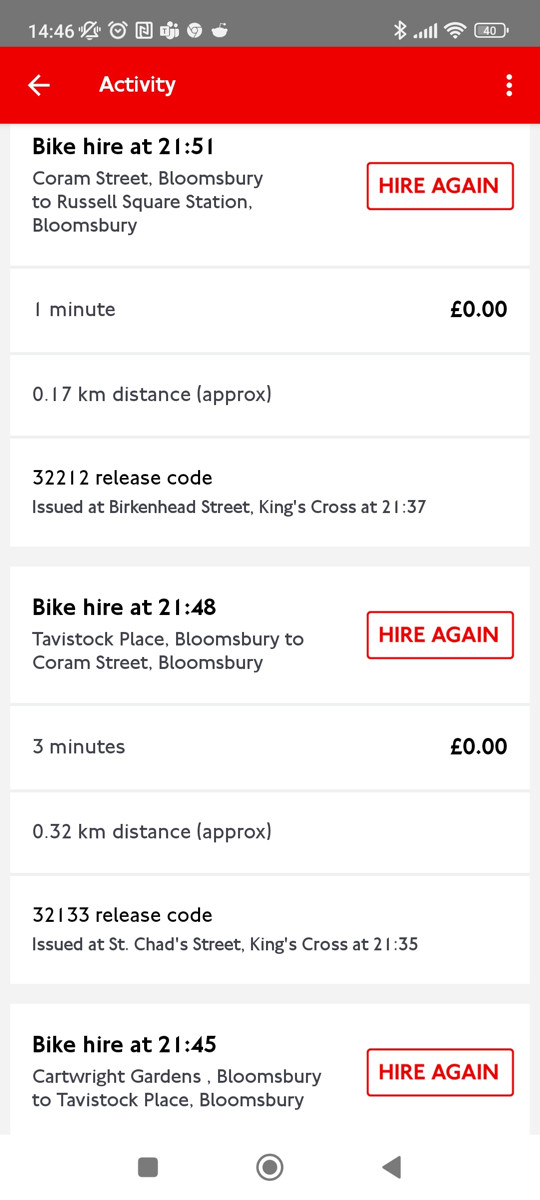 One note on helmets – normally I would always wear a helmet on my own bike, but not on bikeshare bikes – we shouldn't be encouraging it for bikeshare bikes as it significantly reduces their utility and appeal for spontaneous journeys. However – I'm glad I did wear one, because we were on the bikes for 12+ hours, occasionally taking some quite aggressive manoeuvres to get across to the other sides of streets. We had no incidents or even any beeps from drivers, but one person in one of the other teams got bumped by a van. You do feel pretty secure on a Santander Cycle even without a helmet, as they are 25kg, feel incredibly sturdy, and you can never go that fast on them. But for this kind of challenge, hazards were definitely higher than normal and so the extra security of a helmet was welcome.
The Pashley-made bikes (bike numbers starting with 5) make up around 20-30% of the fleet and are definitely better than the older bikes still available, as they are newer. They are slightly lighter, have better lights, a more solid seat adjustment mechanism, and generally just feel nicer. We generally opted for those bikes, and typically stayed on the same bike for hours at a time.
I'll have one more blog post about the challenge soon, some technical notes about how I put together the routes and some of the issues I faced doing so.
Links
Website map with the timings: https://misc.oomap.co.uk/atdmap/
Route GPX files and timings CSV: https://github.com/oobrien/allthedocks
Some photos courtesy of Jeyda and Joe. Background mapping © OpenStreetMap contributors.