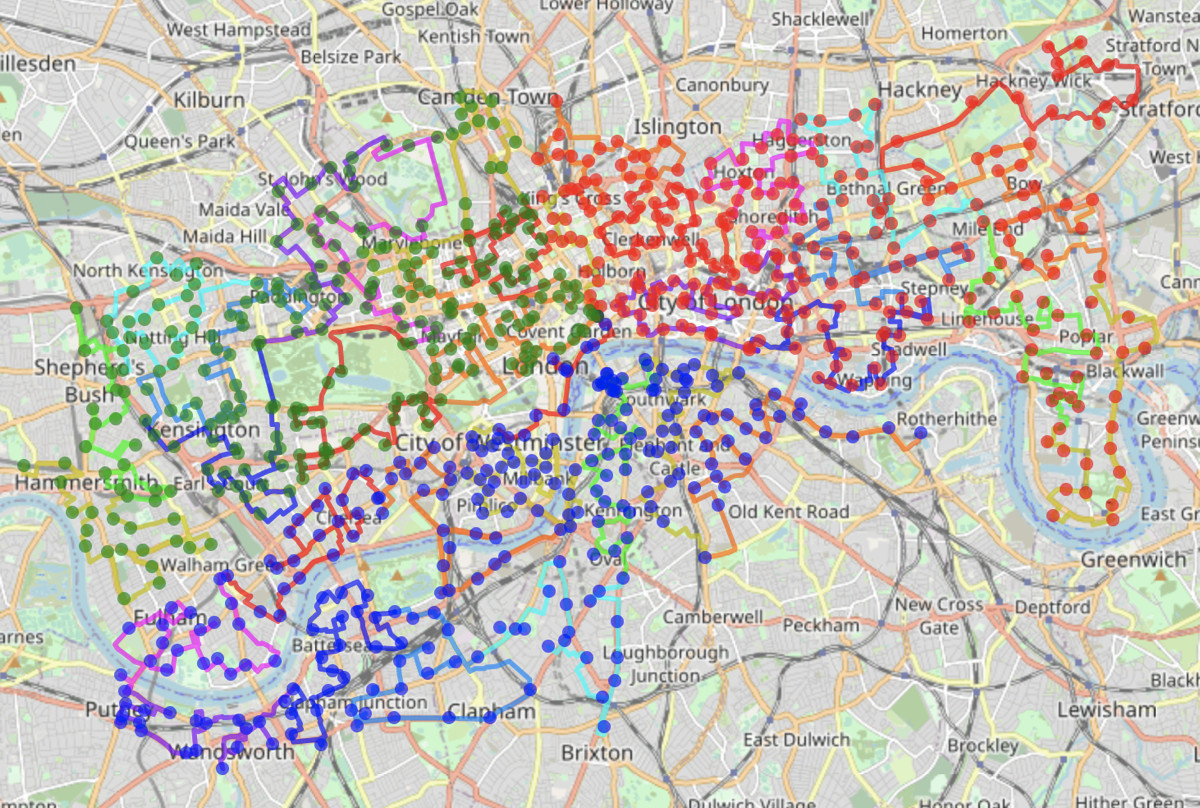 [Update: How it went]
On Monday I will be attempting to visit every Santander Cycles docking station in east London by bike, starting at 9am outside the velodrome in the Lea Valley VeloPark (the "Pringle" from the London 2012 Olympics), cycling over 70 miles and hopefully finishing sometime that evening close to the London Transport Museum in the centre of the city.
It's the result of an idea by Stephen Bee (of Zwings, an e-scootershare company), Joe Seal-Driver (a mobility expert who formerly ran the ofo bikeshare in London) and Matthew Clark (Chair of CoMoUK, the UK's bikeshare industry group). They have assembled three teams of three people – the teams will leave east, west and south London at the same time on Monday, each team travelling as a group and docking one Santander Cycles bike at each docking station in the east, south of west part of the network. That's around 263 docking stations per team – or one every 2-3 minutes, as the plan is, 12 hours later, for everyone to meet on Aldwych.
Why are we doing this? Because it is there to be done, and to see if it is possible to do – perhaps with an eye to a possible single continuous round in the future.
How? Each team will have a lead rider, who has to dock and undock a Santander Cycles bike at every intermediate station, plus two supports on their own bikes (or other hire bikes) – one to navigate and one to tick off the list and update everyone else. TfL was due to launch some pedelecs (electric bikes) into the fleet in September – this got delayed, but if they do appear quietly on Monday, it will be a welcome boost.
The Routes
I've created a suggested route for each team – have a look – and the markers should gradually turn green on the day as the teams progress. Some of the teams may be marking progress a different way – but look out for live updates here from at least Team East – subject to battery life and other practicalities. The "official" record of each visit will be compiled by Santander Cycles operations, using their hiring transaction logs, after the event.
Tech considerations – we were hoping to be using routing apps. However – these have proven to be a bit of a challenge. Some have restrictions on the total numbers of waypoints/routepoints, and some insist on rerouting you the long way around… we are aiming to cycle as much of the route as possible, but there are short pavement sections and one-way roads when we'll need to wheel bikes in one direction to or from certain docking stations. The only long walking section is through Holland Park. So, a more manual approach has been taken. A website with a pre-planned route, and paper backups of the map in case of failing smartphone batteries.
Another issue with routing applications is they aren't up-to-date with the many one-way/two-way signage from the local authorities. Some areas have introduced Low Traffic Neighbourhoods, and some borough in particular are keen on having one-way roads allow two-ways by bike. Neither OpenStreetMap nor Google Maps is fully up to date with these changes.
There is also the issue of automatic routing between 260+ locations. This is a so-called "Travelling Salesman Problem (TSP)" (the best route between multiple points) which can only be done automatically with heuristics. So, ultimately, the routing has been done manually. Local knowledge, Google Street View and OpenStreetMap have all been useful, plus I've visited a couple of links to check their current state. I've split each of the three routes into 12 section, each approximately 10km or 1 hour. I did then use an online TSP engine – RouteXL – on some of these sections to see if it could beat my "manual" route planning, and in a couple of places it did spot something clever. But I think my three routes – each around 116km long – will be pretty close to the optimum routes.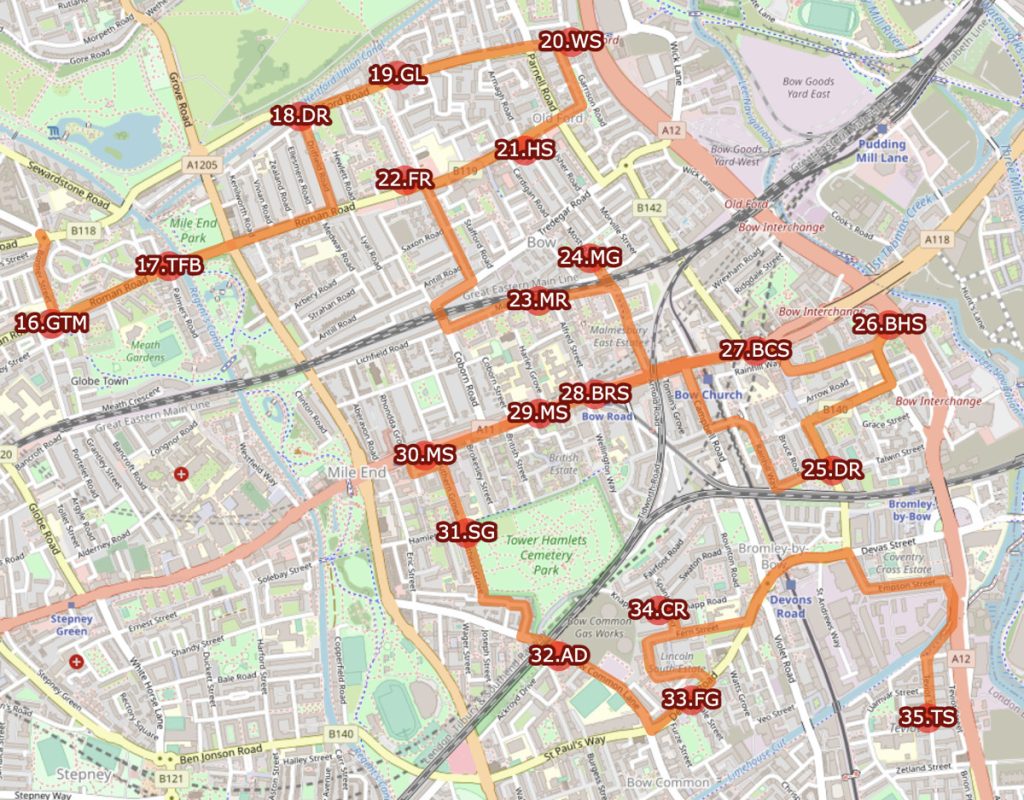 My preparation is limited – I haven't even hired one of the bikes for many years – but my commute to work by bike is over an hour each way, which helps. I will also be a doing couple of hours cycling to help at the London Marathon on Sunday, and also (albeit not quite the same type of exercise) I waited 9 hours in The Queue earlier in September. Technical preparation has included buying a Santander Cycles monthly membership, a phone mount, some protein bars and a spare battery pack! Stephen and Joe have also done a test hour. Their rate then suggests it is possible but will be a considerable challenge to have completed our third by the evening. Luck will need to be on our side.
All the Docks should be responsible for 2-3% of all hires on Santander Cycles on Monday.
If all goes to plan, Team East will be heading through Canary Wharf just after noon, through the City of London just before the evening rush-hour, and King's Cross at around 7:30pm. We haven't quite decided how/where/when we will be stopping for food – it might have to be on-the-go snacking.
You can view the map here and download GPX files containing the routes and waypoints, from GitHub. Here's Stephen's introduction to the project.
On Monday, keep an eye out on Twitter – at @allthedocks and also my own account (@oobr).