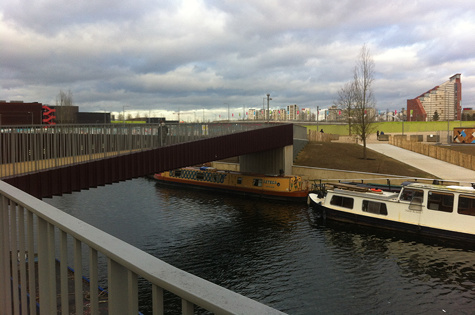 There's a new bridge into the Queen Elizabeth Olympic Park – the Monier Bridge. It connects Monier Road in Fish Island, part of Hackney Wick, with the Loop Road in the Olympic Park. At the latter connection point there is a new ramp down to the canal towpath and also a path through the Sweetwater development site, to Carpenters Lock which is the focal point of the whole park, as it connects the main north and south parts. The new bridge was actually installed a couple of years ago, but it has taken a long time to open up the area of the park north-west of the Olympic Stadium and so provide the link through to the centre.
The bridge's design mirrors that of the Wallis Bridge which connects the northern half of Hackney Wick to the park. A map, that I found on hoardings beside another bridge in the park which is being narrowed, shows both new bridges (on the extract of the map below, they are both on the left-hand side) and also reveals new names for several other bridges in the park. The bridge to the Waterpolo arena, aka the Stratford Waterfront development site, is now called Tallow Bridge. Further downstream, the Aquatic Bridge and Purple Bridge become the Thornton Bridge and Iron Bridge respectively.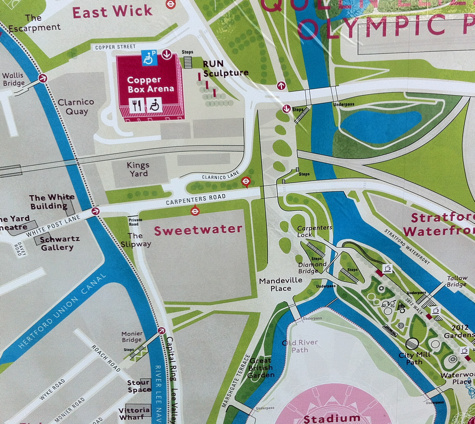 Elsewhere, I noticed that the hoardings around the Sweetwater development site have a new mural on them. There is also a new ramp down to the canal from the White Post Lane entrance, alongside the existing steep and cobbly one. There are also five new level paths connecting the canal with the old Main Press Centre building. The larger building alongside, Here East, which has previously always been a drab white and grey, has a huge "H" painted in black and green on its southern face, along with a huge "HereEast.com" graphic.
With the new bridge having opened above, and Carpenters' Road finally reopened under the mainline railway, the Queen Elizabeth Olympic Park finally has all almost all of its entrances open – it's somewhat challenging to count them all, but there's at least 30 now, depending on how the boundaries are defined. Certainly, this is a big piece of London which is now a lot more connected – and a lot less secluded – than it was back in 2007.