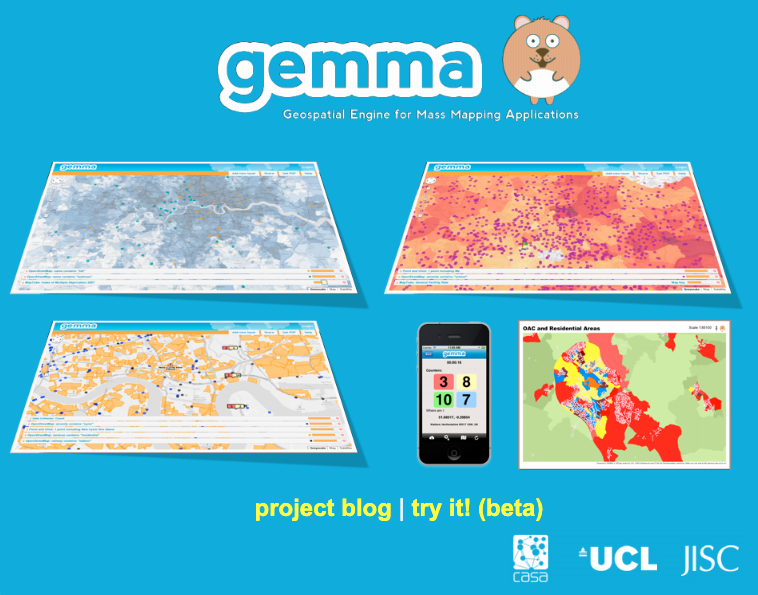 At State of the Map EU I presented a preview of GEMMA, my current UCL CASA funded project, focusing particularly on the OpenStreetMap Feature Highlighter, that will be one of our key data sources – it being an OpenStreetMap conference, I thought this would be of most interest to the audience. GEMMA is more than that though – it will both be a portal of content and created maps, and a mobile application for collection and viewing of data.
Unfortunately my talk clashed with a cartography talk but quite a few people were in my track and saw some screenshots of OpenStreetMap data being highlighted in GEMMA. I also talked about integration with other CASA data sources – GEMMA is a consolidation project to tie together a number of CASA products – and mocked up some examples, focusing on a need to understand more of the demographics of London bike-share cyclists, a current personal interest of mine.
GEMMA is a JISC-funded project that I am working on with Steven Gray. It's one of the JISCGeo projects, and should launch this autumn. It has its own website and also a blog, where I go into more detail about the project. This is the first CASA project, I believe, to make significant use of OpenStreetMap, and its great that we are now able to take advantage of such a rich and expanding dataset.