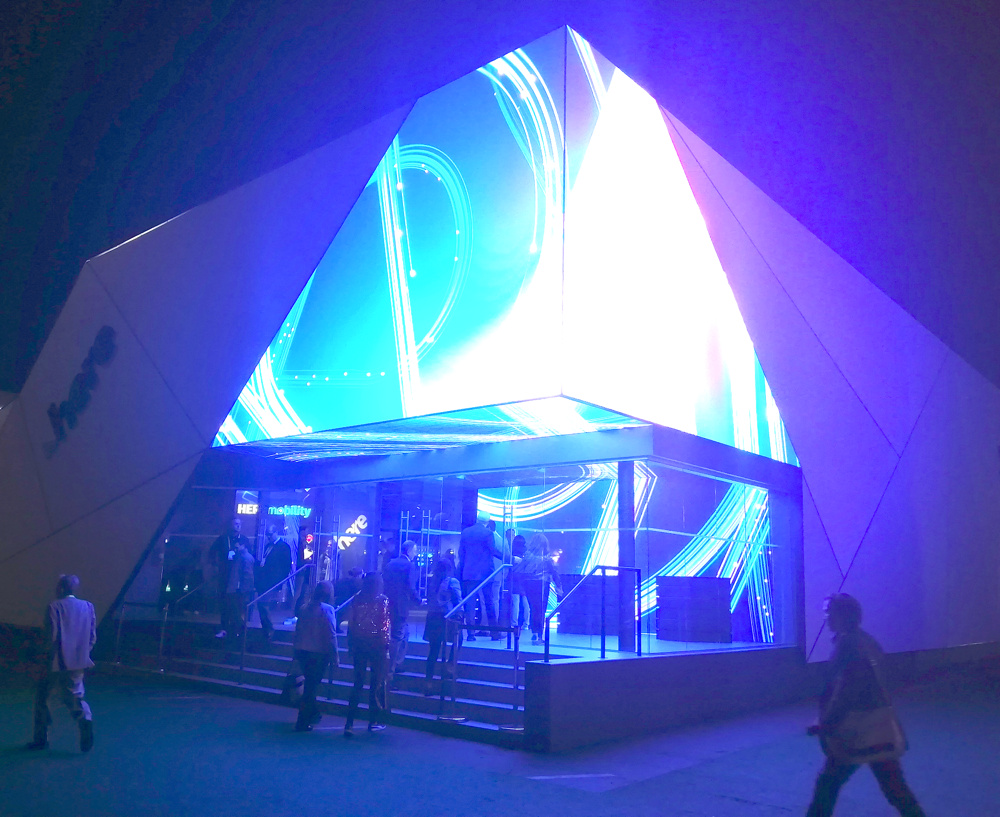 I was a guest earlier this week at HERE Techologies at the Consumer Electronics Show (CES) 2019 in Las Vegas, the world's biggest consumer electronics trade show. Their booth was directly right outside the main entrance to the Convention Centre, the hub of CES, right beside Google's own huge one. The juxtaposition was interesting, the two companies competing intensely in some areas of location services (e.g. mapping APIs, journey routing and rich global POI databases) while being distinctly different in their approach – Google being very consumer focused with its ubiquitous brand, its location tools being largely smartphone based and advertising/user profile driven while HERE's European origins are reflected in its strict user anonymisation defaults, its main datasource being car sensor information from cars (e.g. some of the major car companies are the key investors in HERE), and its mainly B2B focus which means that the UI you typically in front of HERE's location intelligence is typically branded from the car company itself.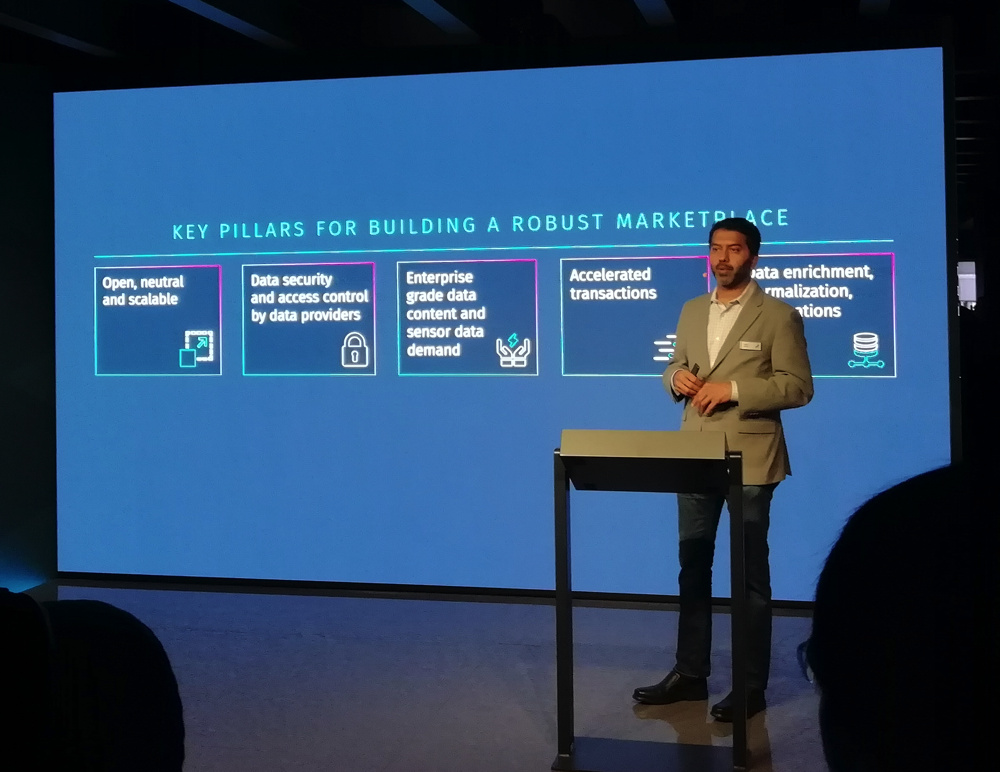 The car sensor information drives much of the 5 million updates made every day (generally automatically) to its global master map and also means that HERE has a pretty good live traffic data stream of its own. The global master map also contains 160 million+ POIs (points of interest) – it's a seriously large database – which HERE has collected, collated and bought from a wide variety of sources. The map is a core part of HERE's overall location platform offering.
HERE's booth was a hive of activity, with product demos downstairs (themed around "the new reality") and a small stage, while upstairs, numerous meeting rooms were full all day, presumably with various meetings between HERE executives and at a guess, car companies looking for platforms to power their car/user information systems, city transportation agencies looking for new datasets to understand their city roads more effectively, and other key potential stakeholders in HERE's location platforms. The the breakout areas were also well used and even a little outdoor cafe/terrace overlooking the main entrance to the convention centre.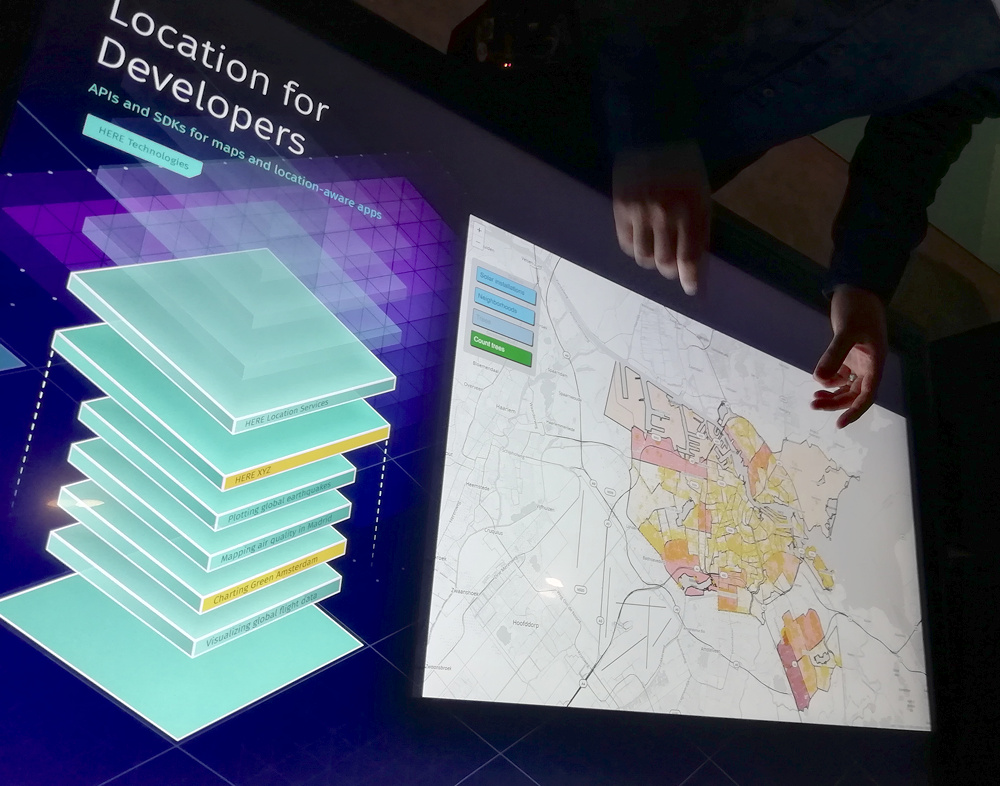 Our group was introduced to a number of people at HERE, including the CEO and various product managers. Of particular interest to me were the Fleet and Developer API talks – the former because of the "enterprise level" travelling-salesman-problem type (actually the vehicle-routing-with-prizes problem) functionality that is a core part of the platform, and the latter because I've already used a little bit of the HERE mapping APIs.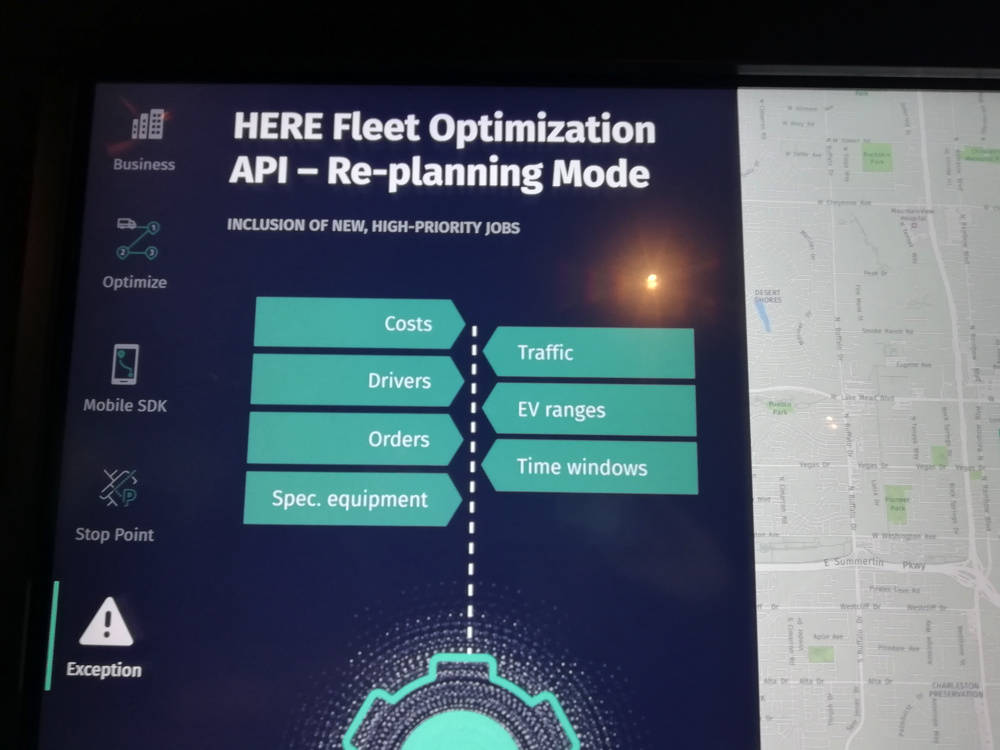 SoMo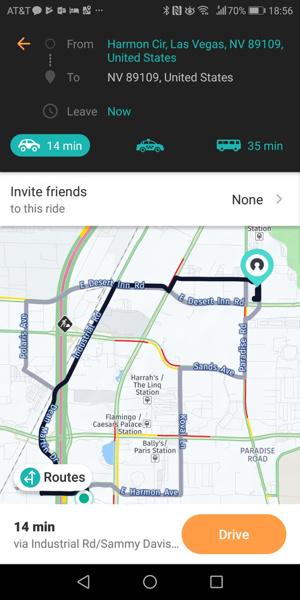 I also chatted to the HERE Mobility team who also had a presence in the HERE booth and also their own display in the main exhibition halls. HERE Mobility, who operate almost as a "start-up" within HERE, have the most obvious "consumer" presence of HERE, and launched their new "SoMo" app, which aims to be an "honest broker" multi-mobility navigation too. SoMo, which is short for Social Mobility, aims to offer various rideshare options from third parties, as well as transit and driving information – it's key distinction, apart from being a platform for smaller rideshares, is to allow easy pooling of ride opportunities and friends/contacts who also need to journey to the same place.
They have identified a number of scenarios where this is useful, for example, people from a particular neighbourhood who are all planning to go to a music concert in a specific venue in another part of a city. The theory being that fans of the same artist might want to travel together and pool the costs, and find a good value or available service, where the "big two" rideshares Uber and Lyft, who are not on the platform (and indeed are building their own multimodal platforms) may be not present in a particular city or don't have the necessarily availability or good price point on the ground.
SoMo will likely work best when you have a number of friends/contacts using it, and sufficient coverage of timely services in the cities where the users are. As such, it will live or die by the volumes of people using it, hence their big push to have the new app downloaded as widely as possible.
One HERE announcement at CES that is of immediate to me – my Alexa Echo Dot is finally location aware, worldwide – it was frustrating that it was unable to give me directions or time estimates, while my Google Home Mini was able to – but Amazon and HERE announced a partnership where the HERE location platform (with its routing capability, traffic awareness and huge map and POI database underlying it) provides location information in response to relevant queries to Alexa. This is not through an add-on "skill" (Alexa's terminology for apps) but is built in to the core of the device's response framework.
Thank you to HERE Technology for inviting me to CES and organising the trip and insight day.