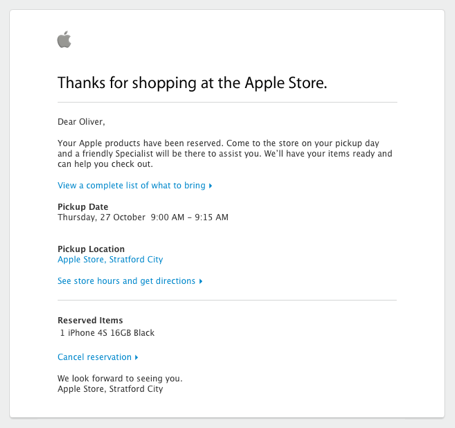 I have finally upgraded my old iPhone 3G, which I've had for a good three years, to a shiny iPhone 4S.
The old iPhone has done well – it still works, although its volume control has fallen off and its back is scuffed and slightly cracked – dropping it recently, at speed on the A104 through Epping Forest, didn't help. It even survived being submerged for several minutes in an authentic peat bog in the Scottish Highlands last year. The battery is not great – if I have my screen as dim as possible, and don't make/take more than a couple of calls, it will generally make it through the day. Its second most irritating habit is regularly freezing up for several minutes – often when trying to get a GPS lock (as happens automatically when tweeting or using the Maps app) – and then reopening such an app will cause it to crash repeatedly. This has meant I've spent plenty of times at the side of a road junction, cussing my phone for freezing up just when I need to to show me a map of where I am. Its most irritating habit is locking up occasionally when a call comes in, so I miss the call. Bad phone.
Despite these annoyances, the new phone was, I'm afraid, always going to be an iPhone. Reports from my Android-using friends are mixed, and now that I am 100% Mac at work as well as at home, having a phone with an OS that is designed by people who consider Mac users to be more than an afterthought (hello Sony Ericsson synchronisation c. 2007, hello Nokia developer environment c. 2005) is key.
To get my new iPhone, I went on to the Apple website at 9pm yesterday. The list of UK stores appeared, after a couple of browser refreshes, a couple of minutes later. However, very disappointingly, it listed all versions of the iPhone 4S as out of stock at all nearby stores. However on refreshing again a few minutes later, full availability suddenly appeared. You then pick a store and date – and also a 15-minute time-slot!
So this morning I headed along to Westfield Stratford City for 9am. This was my fifth (!) visit to the giant complex – once previously for the opening, a couple of times to map for OpenStreetMap and once to buy a British Olympic Team mug from the Olympic store at the back of the John Lewis. This visit was very different to before – it was almost empty and there was quite a bit of store construction and general maintenance going on. Odd. But then I noticed the sign on the door to the mall – open at 10am on weekdays. Ah. But you can still get inside, and it turns out the Apple Store is opening between 8am and 10am for reservation pickups only. So I headed up the stairs and over to the shop with its giant Apple logo shining like an artificial sun over the muted mall surroundings.
Here's what Stratford City currently looks like on OpenStreetMap, following a coordinated mapping party there a few weeks ago, and some usefully licensed areal imagery – the Apple Store is not currently shown but is essentially above the "Tommy Hilfinger" shop that is marked:
Here's the same map on Google Maps:
Good to see the John Lewis in there.
To be fair, the Ordnance Survey (available via Bing Maps) also have updated they Landranger map to show Stratford City correctly and also add in the various Olympic stadia.
Once at the store, the process is surprisingly convoluted but at the same time efficient – first you join a short queue of people to get into the store, then a store employee checks your ID, matches you up with an appointment list on an iPad he is holding, and points you to another queue line. At the end of this line, another employee again checks your ID against their iPad list, and then points you to one of the tables in the middle of the store, where a third employee, standing with you rather than across at you, picks up a boxed iPhone and scans the barcode with a special iPod Touch. You hand over the credit card, and finally a receipt appears from a printer very well hidden underneath the table. And that's it. I was in and out of the store in less than five minutes, and out of Stratford Westfield and back on my bike in another five.
Apple obviously intends the Apple Store retail experience to be something slightly different. There is an unmistakable if unintentional feel that roles are switched from the traditional consumer model – the store is a temple and I am a disciple?