A puncture on my own bicycle on my way in to work this morning found me grinding to a halt outside Manor House station – not the worst place to have a flat tyre, as the tube from there will take me into work in around 20 minutes with just one change, for £2.40. (The other option was a single bus for £1.50, taking 30 minutes – although easily longer if it gets snarled up in traffic). But as I dropped my bike off in the bike stands beside the entrance, I noticed another bike – a chunky, green-and-yellow coloured beast. It was a Lime-E bike – London's only (so far – others coming) electric bikeshare, also parked beside (but not chained to) a stand: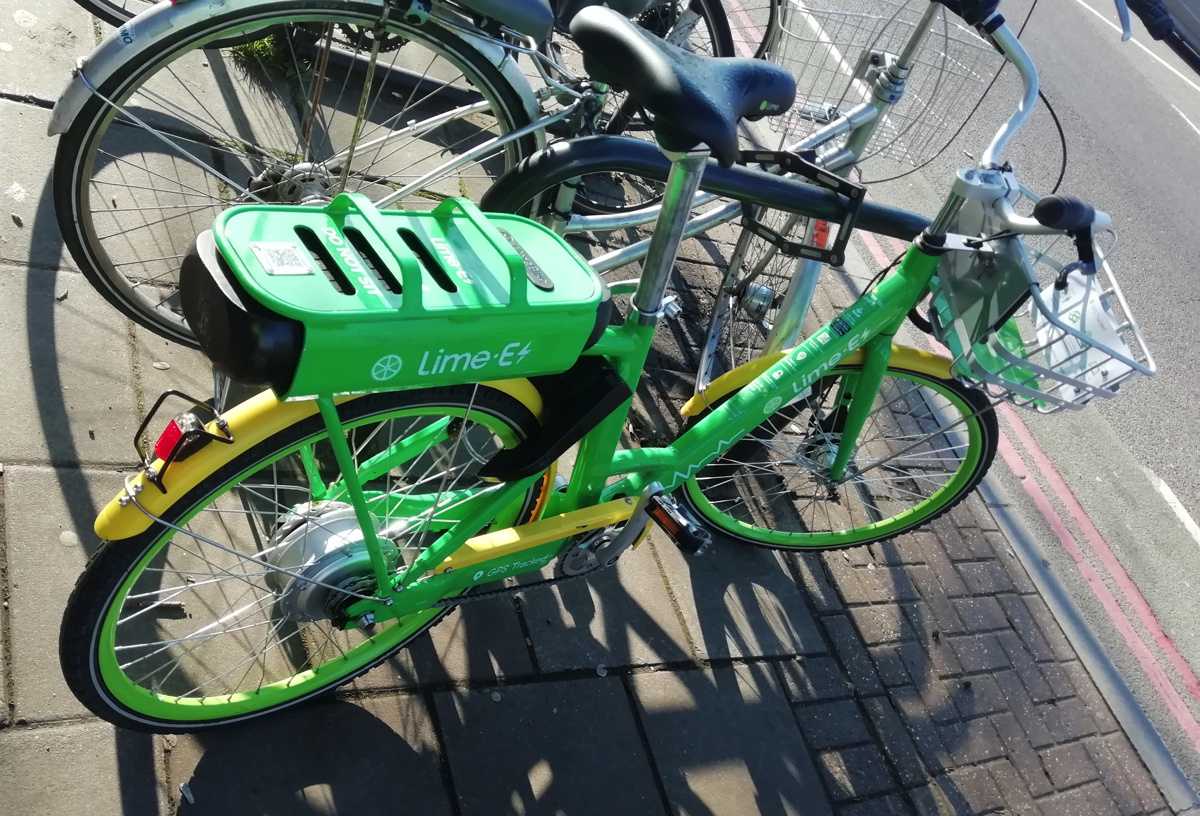 It was well out of zone but Lime (currently) allows hires starting and finishing out of zone – a pragmatic decision presumably based on the lack of cross-borough policy, the bikes being relatively well managed by the operator, and there not being too many of them cluttering up and causing non-user complaints: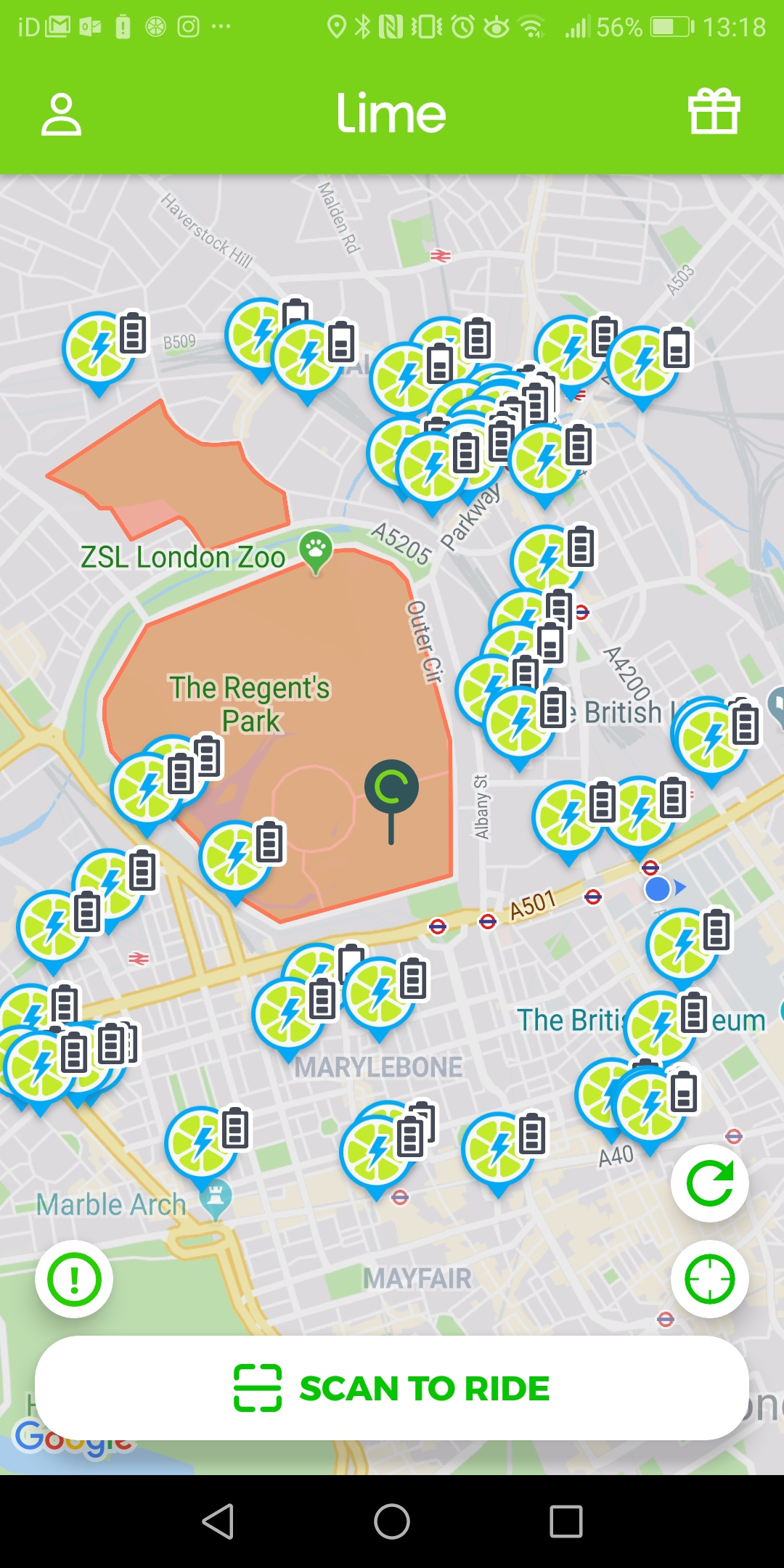 I hadn't tried Lime so far, although it launched last December – I was put off by the £1/hire+15p/minute cost – that adds up quickly. But, I needed to get to work and it was right there. Surely this bike could prove to be an effective alternative mode of transport, for my immediate commute requirement?
I already had the app installed on my Huawei smartphone, but had not put in payment details – only when trying to scan did it prompt for a payment card. Android Pay stepped in to automatically add my credit card details, however Lime didn't like the two-digit year supplied by Android, requiring a reenter of that section.
The app confirmed that this was a hireable bike and that it had a decent amount of charge on it – 86km! I could almost get to Oxford with that: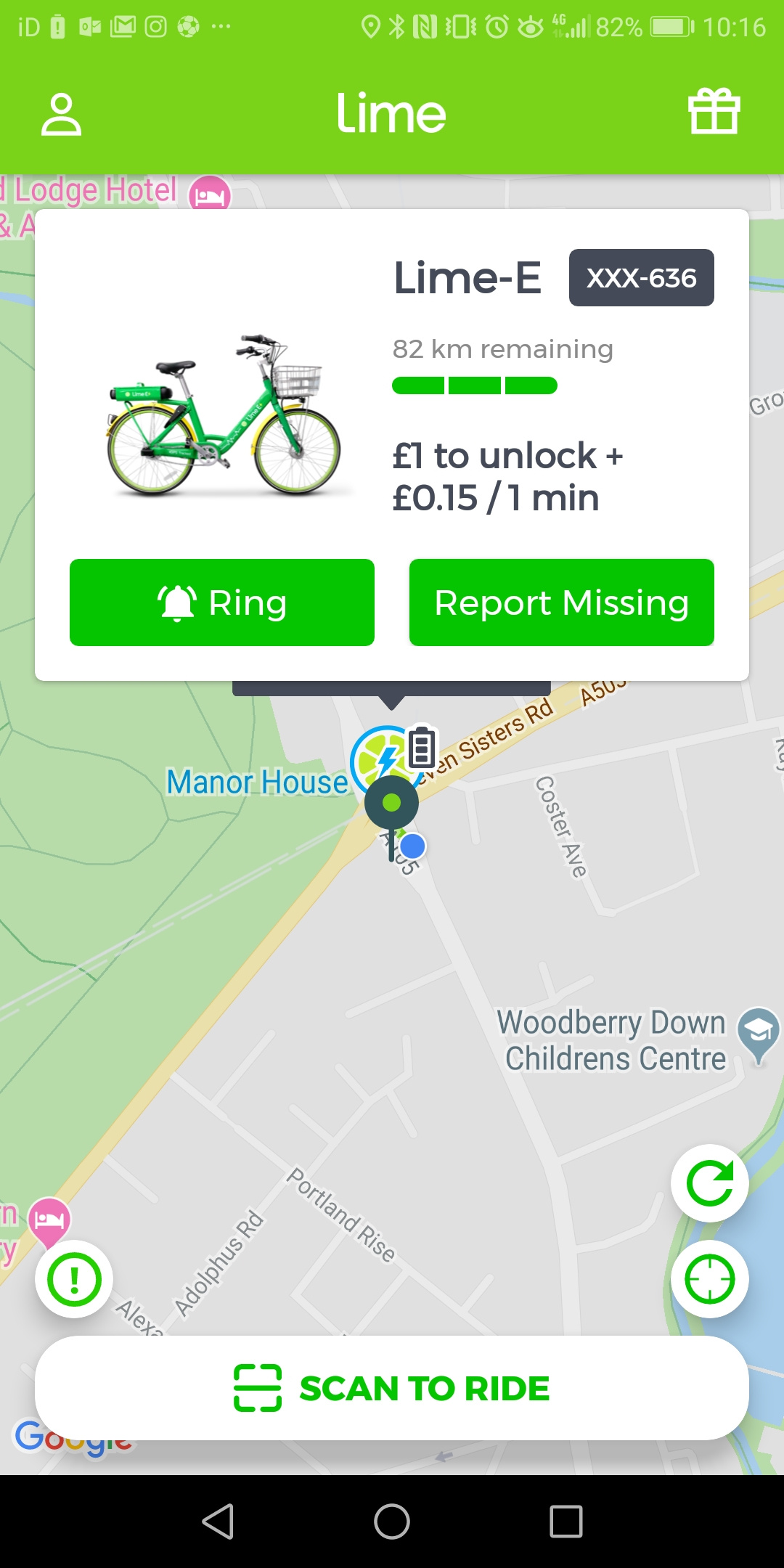 Then, a rescan and the bike unlocked with a click in a couple of seconds. (Interestingly, the wheel-lock was quite a small one, not the chunky ones that appear on Mobikes now to try and stop rampant theft of them.) Something (the bike, battery or the app – not sure!) played a jolly tune to indicated success, and I was off. Unfortunately I quickly noticed the bike loudly jolted with each wheel turn – possibly a buckled spoke or other problem with the wheel – it was not enough for me to abandon the journey, but was not something I would leave before fixing. Later on, something else made a plastic rattling noise at the back of the bike every time I pedalled. Maintenance (or lack of it) was a problem with the non-electric dockless bikeshares in London. I was hoping that the more expensive electric bikes would have a more rigorous repair regime. Maybe they do and I was just unlucky.
The initial acceleration boost given by the battery was great – straight across the lights and down to Finsbury Park. However, almost immediately it just felt like a regular bike – there was still a boost at faster speeds, but it felt like it was just countering the heavy battery, rather than genuinely making it easier than a regular bike. I didn't feel slower than my regular bike – but it didn't feel like it was any less effort either. There is only one gear, so the only thing you can do other than pedal, is to ring the handlebar bell. The gearing is OK – it's certainly better than the Mobike/Ofo/Urbo ultra-cautious setting.
I was keen to measure the "configuration" for the electric-assist, so stopped after around 3km, at the bottom of the main remaining uphill on the route – up Camden Road past the old Holloway Prison – to attach my Beeline smart compass – not for its primary navigation purpose, but to get an idea of the speed I was travelling at. The speedometer function has rather nice analogue-style needle, and was a useful way to see my speed without looking at my phone, even if it is based on my phone's GPS and therefore lags by a few seconds.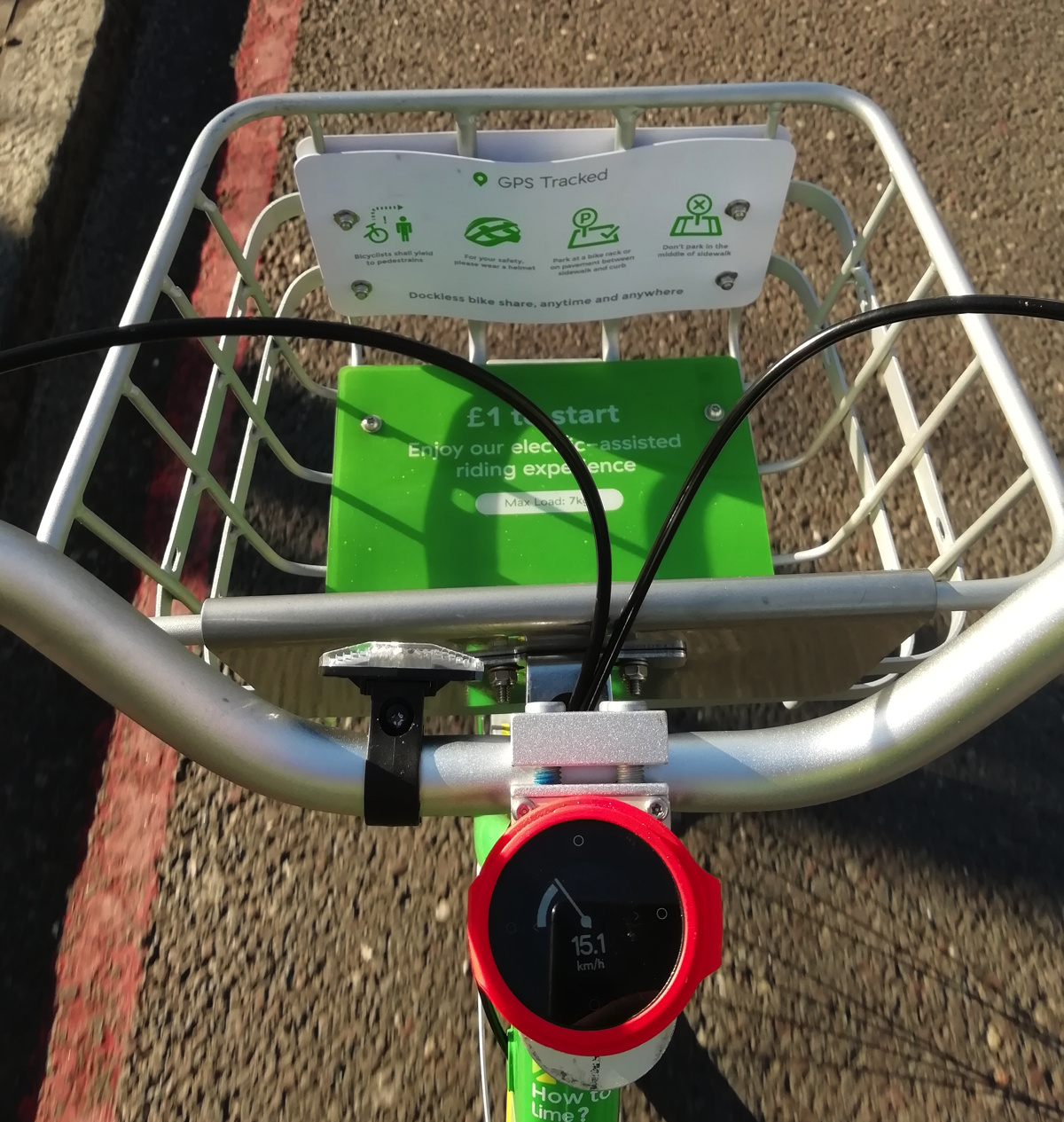 It was undoubtably nice to accelerate up the hill with the battery doing the initial work. It seems that, between 0km/h and around 12km/h, the battery does most of the work. From around 12km/h to 20km/h (my normal peddling speed) it gives a slight assist – not really noticeable but presumably useful for longer journeys. From 20km/h to the legal maximum 25km/h I'm not convinced the battery was helping at all – or if it was, it was just partly countering the weight. It was hard to pedal the bike above 25km/h even downhill on a clear road – but that's presumably by design – bikeshare is generally meant for quieter roads and less experienced users, where a slower speed is safer, rather than me trying to match the vehicular traffic on a sometimes busy "red route" major road.
However, it would be nice to have a much bigger boost between 12km/h and 20km/h, so that you only have to be doing significant peddling work at the top of the range. I feel more tired out than I would have on my own normal pretty cheap road bike. It took me 22 minutes to get in – exactly the same amount of time as my own bike would have. Average speed 19km/h according to my smartwatch – pretty standard for me. Certainly my fastest journey on a bikeshare bike in London.
I parked my bike alongside a Santander Cycles rack. There was also a Mobike there. I really like the idea of dockless cycling bikes being available at the "empty" ends of Santander Cycles docking stations – it seems an "obvious" place to leave them, it's also a good place to "advertise" to people who are in need of a bikeshare of some sorts. (Incidentally, the poster in the Lime basket refers parking in the "sidewalk" twice – needs some UK localisation here, we call them pavements!)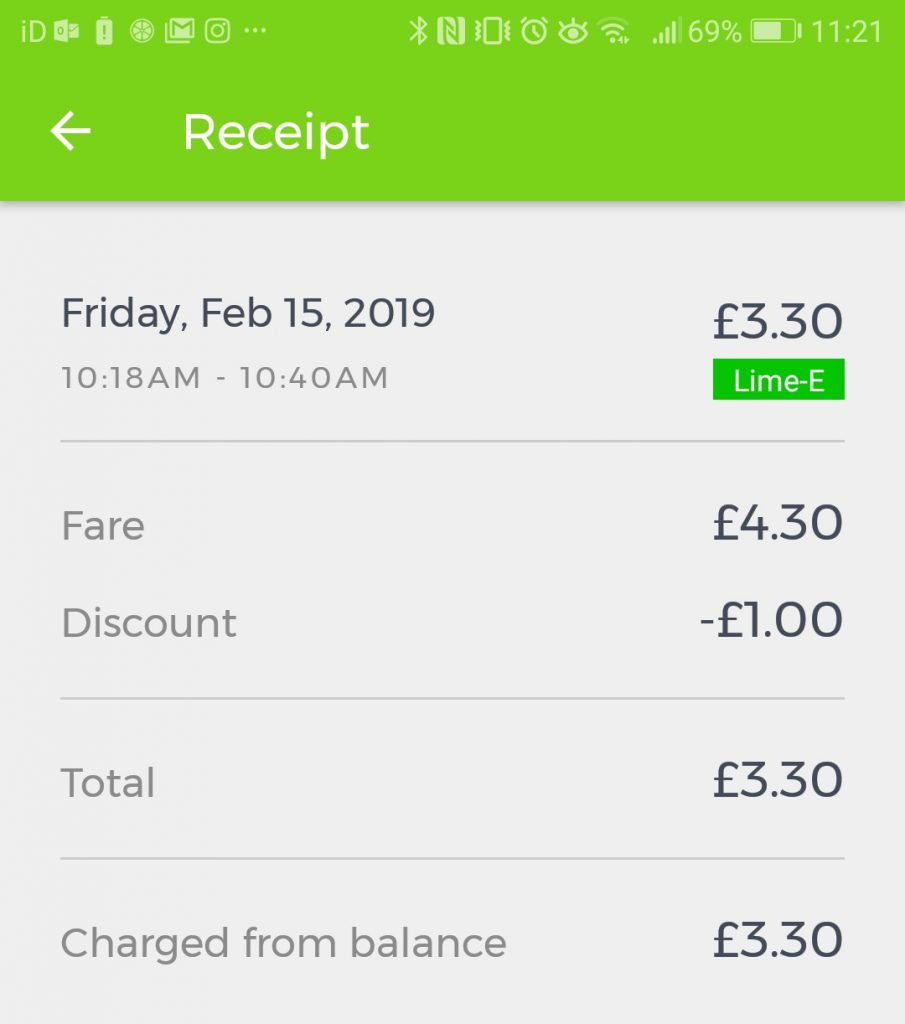 A bit of bill shock though – £4.30, as it was a 22 minute journey (£1 hire + 15p/minute for 22 minutes.) The £1 was, at least, waived as this was my first ride and I was on a referral (btw use my referral code RVDG4MS if you want your own). The pricing structure means that the temptation to (safely) jump red lights was strong – much more so than on my own bike. There are a lot of traffic lights on the route and everytime I hit red on one of the bigger junctions, it will have cost me 15 pence. That's, unfortunately, a pretty powerful financial incentive to break the law. I didn't (obvs) – but I can sympathise somewhat with the Uber Eats and Deliveroo cyclists who are numerous in London but aren't the greatest at obeying the rules… for them, like the many delivery vans in central London getting tickets for illegal parking, the speed/penalty balance is tilted towards bad behaviour.
Also, my suspicion is that Lime are making the same cost-saving/risky approach that Mobike/Urbo/Ofo et al have done so – they don't use have GPS on the bike itself, but are primarily using the GPS on your smartphone. In Lime's case they may have a SIM card or emergency GPS for retrieving a missing bike – but not in regular operation. When I stopped at the bottom of the hill on Camden Road, I switched away from the Lime app (but had it open in the background) to the Beeline app, to activate my device's functionality and start sending it GPS information. Unfortunately, it looks like this stopped the Lime app from recording my location – although the clock kept ticking. So, it looks like I only did a 2.5km journey, not the full 7km: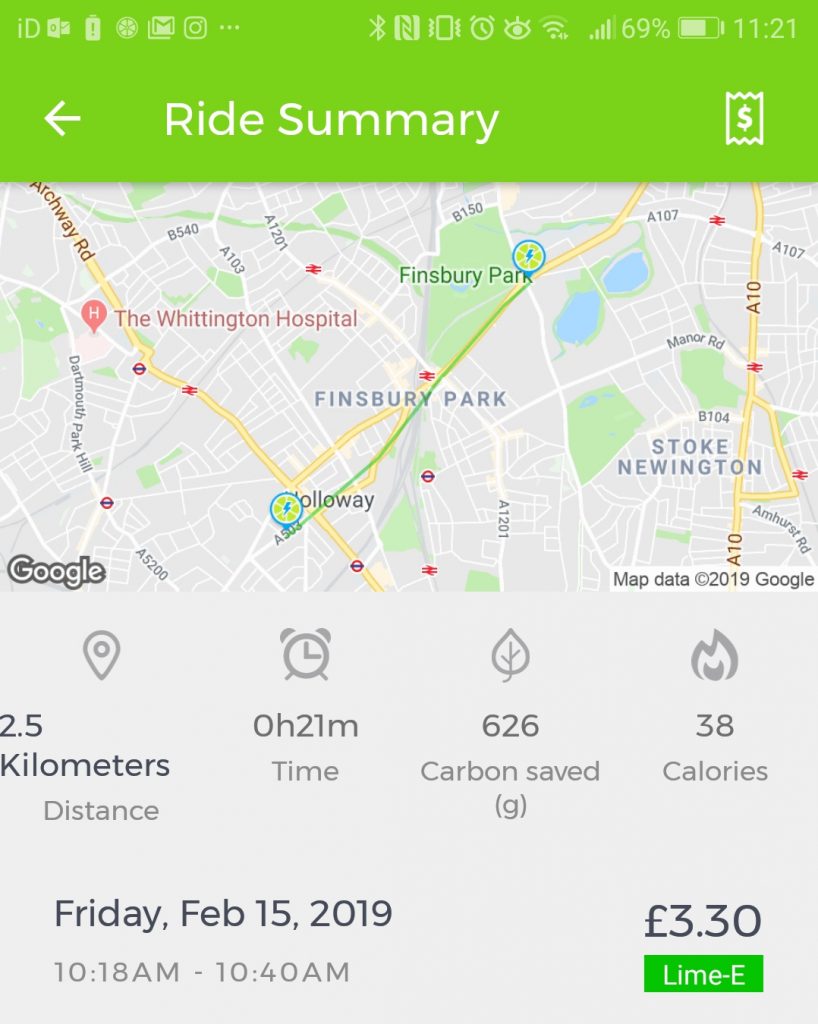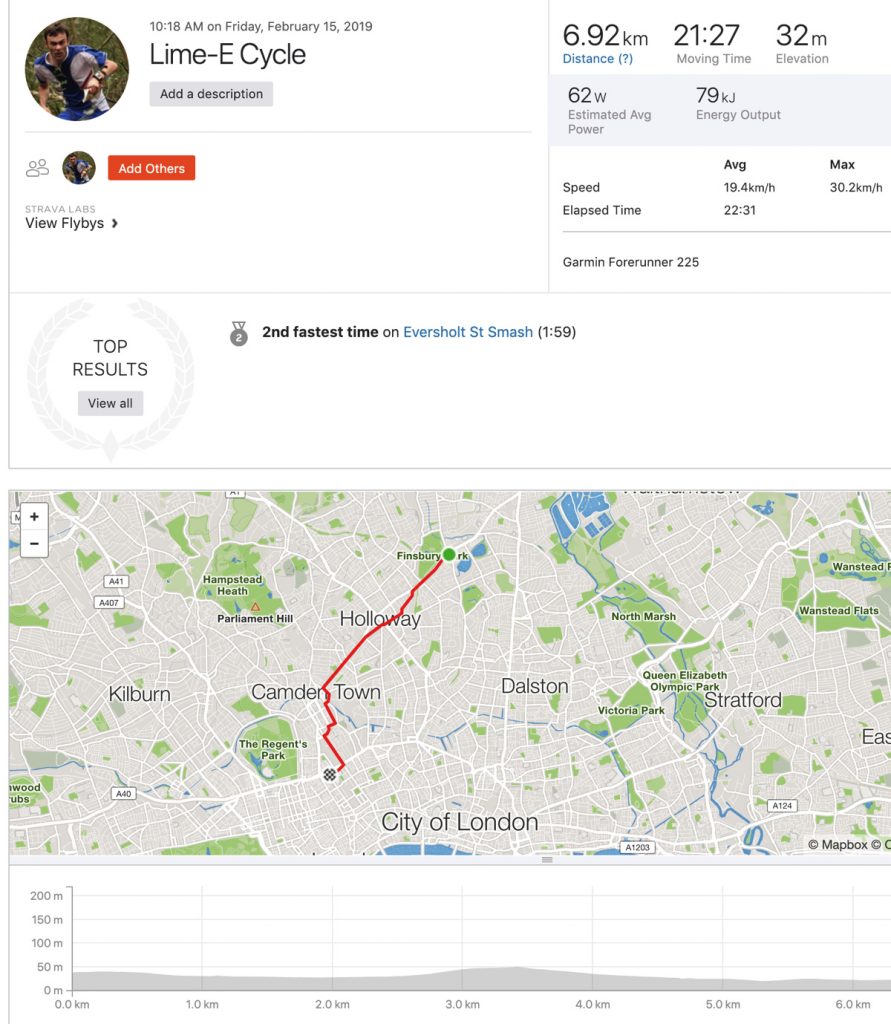 This issue may be a Huawei/Android 6.0 thing – it could be because the Lime app doesn't have permissions to access the GPS in the background – or Huawei's battery "optimisation" cuts off its connection in the background anyway – this has already caused me problems – but it should have been clear to the app that if it wasn't getting GPS information from my phone, it should be using the bike's – so I don't think the bike has any, or it's not used.
I also didn't switch back to my Lime app immediately on finishing the ride – I just drew the lock catch back and felt a buzz from the phone that was confirming the ride was finished – a couple of Lime notifications on my lockscreen also indicated that it had detected the journey finish. But – I only unlocked my phone and switched to the app once I had walked ~200m further into the UCL courtyard. The app has then marked the bike as being in the UCL courtyard, not where it actually is (which I am showing here as the green pin to the north):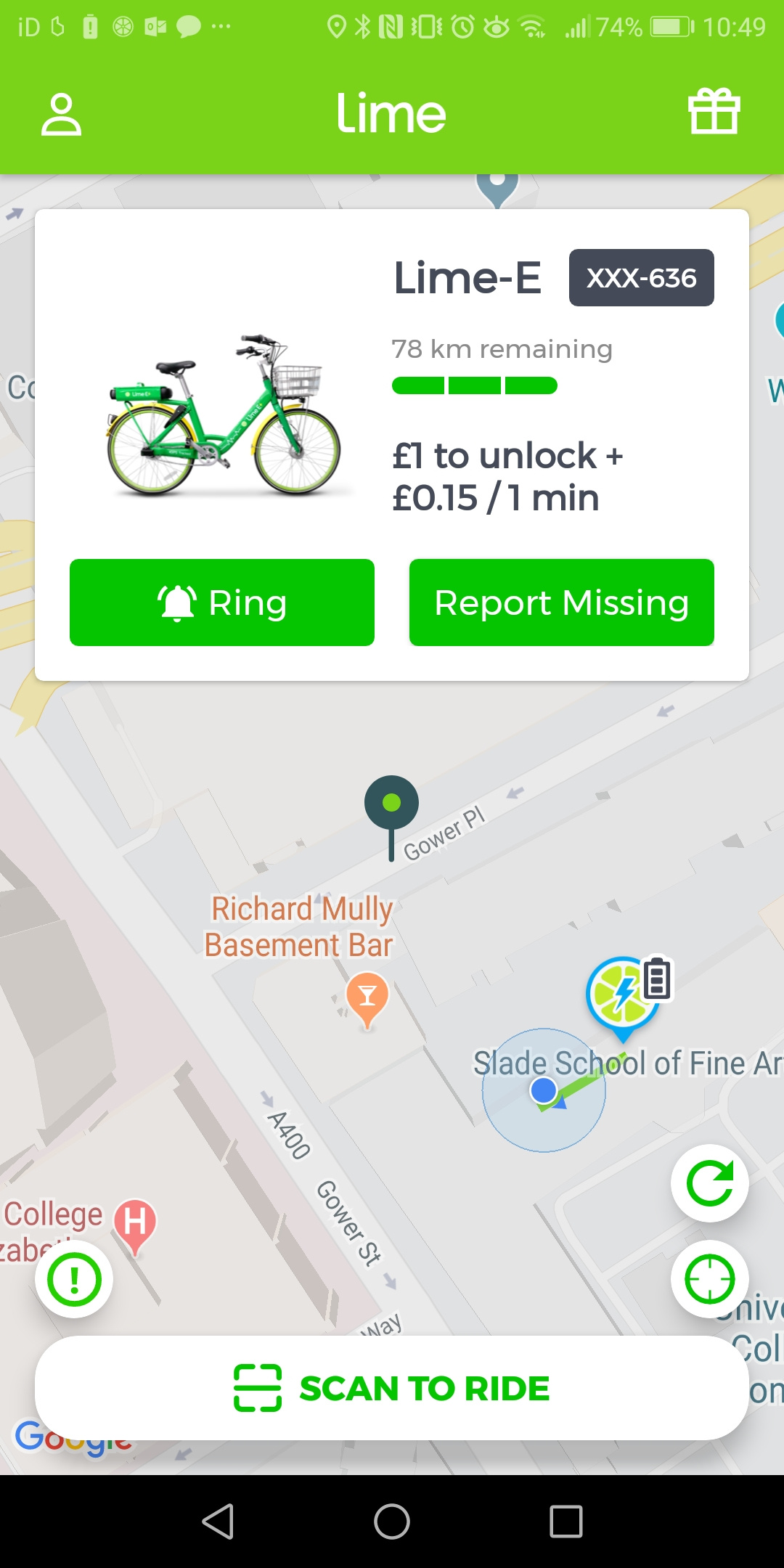 This might be quite tricky to someone trying to find the bike – they'd need to head out of UCL, along Gower Street, and then up Gower Place to find it. It looks like Lime again used my phone GPS as soon as it could – well after the ride finish – so has recorded the wrong location.
It may be that it will later use any SIM card on the bike to triangulate its location correctly (or even its GPS if it has it – I suspect not) and snap back to Gower Place. But, this kind of asset tracking trouble is a nightmare both for users (they can't find the bike) and the operators (they can't find it either!). This is one of the reasons Ofo essentially failed – they couldn't find their own bikes but with the higher costs of electric bikes, I'm really suprised to see it again. In mitigation – there are very tall buildings here and the street is narrow – so it could be a simple GPS error too. Indeed, as well as the "lime symbol" (bike location) being wrong, the blue dot (my location) is also wrong – I'm standing at the "crosshairs" symbol on the map above when I took this screenshot.
(Update: As I suspected, the bike does have communication capabilities of its own – it has "phoned home" after an hour or so, and the location has updated to be much closer to its actual location)
So, to conclude, getting a Lime-E to work didn't work out for me – it cost more than the tube, and took longer, and still required a lot of pedalling. However, I'm not the target user I suspect – it's people who wouldn't be cycling anyway, and just want an easy way to get around, not in a great rush, and maybe with a little bit of exercise but nothing too strenuous. I don't think most parts of London have enough hills, to make the relatively high cost of Lime worth it here – although I would love to try it out on Swains Lane. Maybe a user-configurable app option could change the profile on the bike, to allow a decent boost between 20-25km/h.
I think electric bikeshare has a place in London. We aren't quite there with Lime. They are doing a lot of things right – not overwhelming the streets, looking after their fleet fairly well (I never see them knocked over) and allowing sensible usage anywhere – but they are also making some of the mistakes which the older dockless companies (Ofo/Urbo/Mobike) also made in London. They are also, like almost all the other companies in the space here, not sharing their bike locations publicly/openly. You either have to open the specific app for the operator, or happen to see a bike when you weren't expecting it (like me today). If Google Maps, Transit or CityMapper had told me of these, then surely they would be used more and more effectively. Get your GBFS feeds out there, bikeshare companies, regardless of if you are mandated to (big American cities) or not, and let people find your fleet in new and better ways!
I'm not quite convinced we have arrived at the future of smart Mobility as a Service (MAAS) just yet, at least in London, but at least there are various companies working on it. It's going to be an interesting summer.