A friend forwarded me this article which discusses this paper by researchers at the Yahoo Labs offices in Barcelona and the University of Turin. The basic idea is that they crowdsourced prettiness of places in central London, via either/or pairs photographs, to build up a field of attractiveness, then adjusted a router based on this map, to divert people along prettier, happier or quieter routes from A to B, comparing them with the shortest pedestrian routes. The data was augmented with Flickr photographs with associated locations and appropriate locations. and The article that featured this paper walked the routes and gives some commentary on the success.
Quantitatively building attractive routes is a great idea and one which is only possible with large amounts of user-submitted data – hence the photos. It reminds me of CycleStreets, whose journey planner, for cyclists, not only picks the quickest route, but adds in a quieter (and "best of both worlds") alternative. Judging locations by their attractiveness also made me think of the (soon to be retired) ScenicOrNot project from MySociety which covered the whole of the UK, but at a much less fine-grained scale – and without the either/or normalisation.
In the particular example that the paper uses, the routes are calculated from Euston Square Station, which happens to be just around the corner from work here, to the Tate Modern gallery. It's a little over 2 miles by the fastest route, and the alternatives calculated are only a little longer: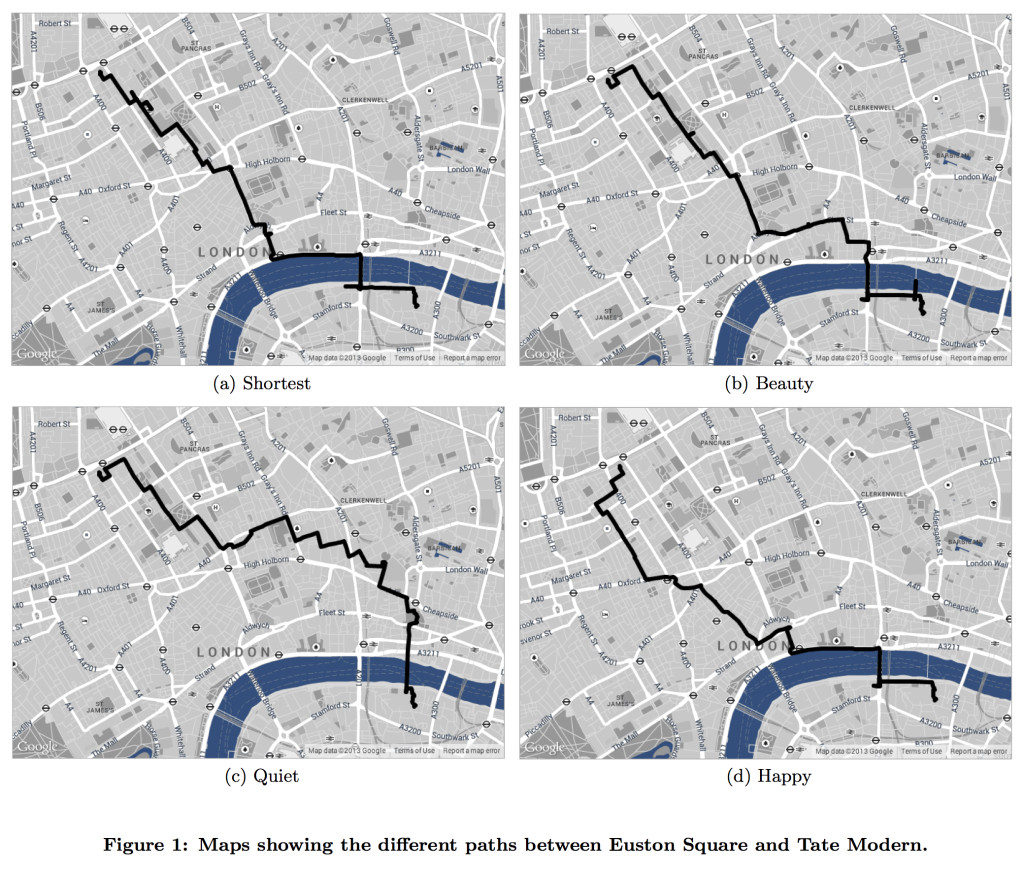 Above: Figure from http://dx.doi.org/10.1145/2631775.2631799
I really like the concept and hope it gets taken further – for more places and more cities. However, I would contend that local knowledge, for now, still wins the day. The scenic route misses out the Millennium Bridge which is surely one of the most scenic spots in all of London with its framed views to St Paul's Cathedral and the Tate Modern itself. The quiet route does go this way, but the route is far from quiet when you consider the hordes of tourists normally near the cathedral and on the bridge. The pretty route goes down Kingsway which is a pretty ugly, heavily trafficked route, ignoring the nearby Lincoln Inns Fields, which is lovely. I think that the following, manually curated 3.0 mile route wins out as a much more beautiful route than the algorithmically calculated one:
Highlights include:
Walking through UCL's Front Quad, through the university campus
Down Malet Street, past the imposing Senate House
Walking through the Great Hall of the British Museum
Bloomsbury Square garden and Lincoln's Inn Fields
Chancery Lane
New Street Square (modern but attractive)
The statue of Hodge, Dr Johnson's Cat
Wine Office Court, with the Ye Olde Cheshire Cheese Pub
Fleet Street and Ludgate Hill, with the famous view to St Pauls
The vista from St Paul's Cathedral, across the Millennium Bridge to the Tate Modern.
Maps in this article are © Google Maps.