[Updated] Following Ofo's recent expansion to Islington and the City of London, Mobike has also expanded to Islington and the City – here's a set of operator-placed bikes outside Cally Road tube station: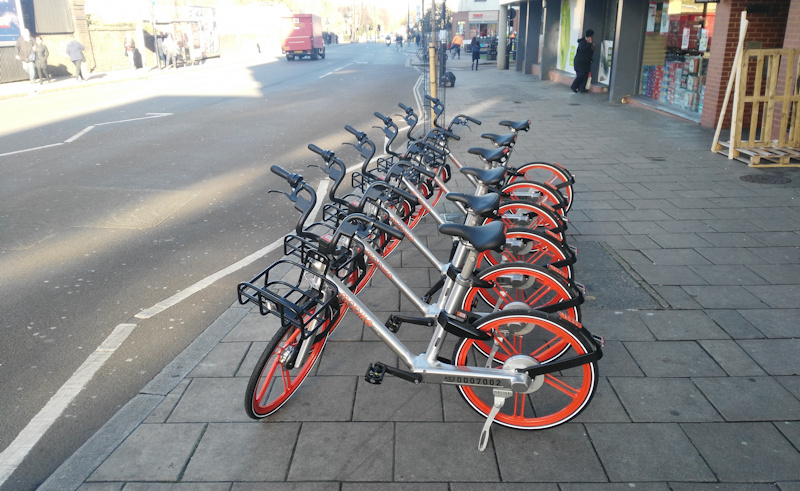 This presumably means that you can now cycle from Acton in Ealing, the original London location for Mobike, to Islington, for 50p/half hour. You can't end your journey in between the two boroughs, though. It would probably take you over an hour, so it would work out the same price as getting the London Overground between the two (£1.50 off-peak via Willesden Junction), in a slower but more healthy way.
The bikes have registration numbers starting "A02", I think this means they are unfortunately the same design as the cramped and uncomfortable Manchester bikes (which are, I understanding going to be replaced soon with new European-market-designed bikes). Mancunians presumably would have been unimpressed with London getting the new ones first!
The new bicycles are not appear in in the Mobike app yet, although this may just be because the app is a bit flakey – you have to pan and zoom very close to the location to see it on the map, and the app regularly reports "servers busy". Now if they just released an open bike location API it would make it a lot easier for everyone to find their bikes…
Just down the road, here's another operator-placed set of Ofo bikeshare bikes, near Mount Pleasant, right on the borough boundary line between Islington and Camden: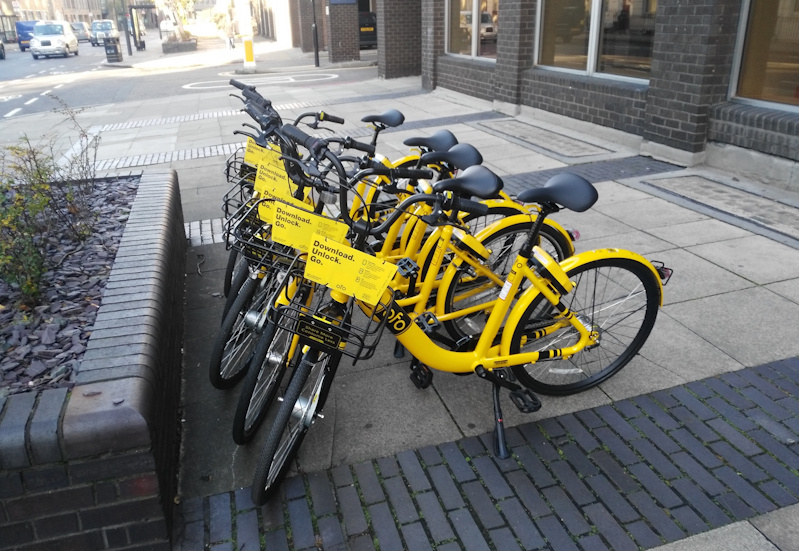 The latter location is also served by the dock-based incumbent, Santander Cycles, for example seen here a few hundred metres further on, in Holborn Circus: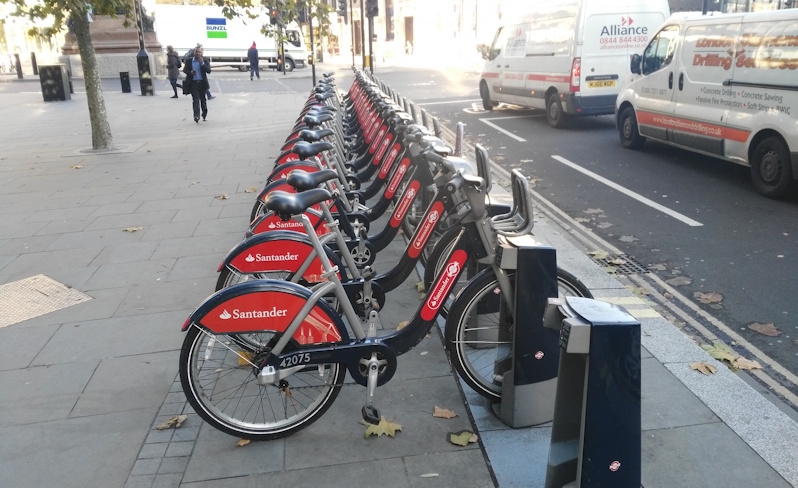 Ofo and Mobike bikes are allowed to be parked in the City, along with Santander Cycles (at docking stations). Only Santander Cycles can be parked in Camden borough, but that hasn't stopped many Ofo bikes appearing available for use in Camden borough anyway – in theory, all of these users would get a penalty: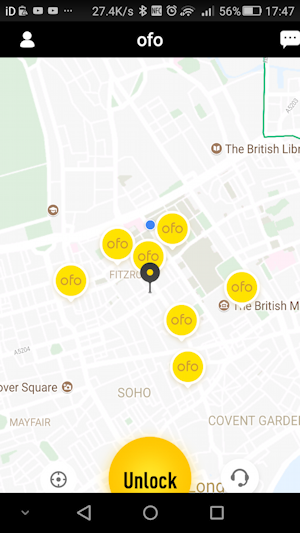 In practice, Ofo (and the other operators) want to expand, it's the boroughs that are moving slowly (with good reason, after the oBike debacle) so I would imagine they will be slow to penalise such out-of-zone journeys. It's all a bit confusing for the average person who just wants to do a quick one-way journey on a shared bike.
The bikeshare wars continue, meanwhile, plenty of London's 33 boroughs* still don't have any bikeshare system in them (see map at top, which shows grey shading for areas with an established commute-by-bicycle residential community).
Surely it's only a matter of time though…
*Including the City of London which isn't technically a borough.