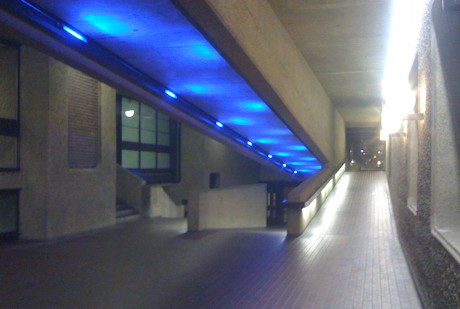 It's the fourth year for the City of London Orienteering Race, which is taking place on 10 September (entries open!). It's also the fourth year that I'm producing the map for the race. Having extended the map westwards to Temple for 2009, and southwards to Bankside for 2010, this year we are moving northwards to Finsbury. There are three distinct new areas being mapped, here's a preview of them:
1. West Shoreditch
A slightly scruffy quarter, where slightly dilapidated offices mix with "interesting" looking independent car parks. It is the surprisingly quiet "no-mans land" between super-trendy Hoxton with its hipsters and bars and the City with its financial workers – and bars. Nearby is the Old Street Roundabout, often nicknamed "Silicon Roundabout" today as the hub of London's tech startup industry.
Hitchcock's Reel, known locally as "The Disco Biscuit", is a large sculpture in the centre of the area.
2. Golden Lane Estate
The most interesting part of the new map, the Golden Lane Estate is adjacent to the Barbican and also features some of the Barbican's characteristic multi-level urban landscape and dramatic concrete structures. It is certain to be a highlight of most courses.
The local area also includes the Quaker Gardens and Bunhill Fields, a large and historic park and cemetery where Daniel Defoe, John Bunyan and William Blake are amongst those buried. The Honourable Artillery Company also have a barracks, large parade ground and field in the area, which is often used for cricket games.
3. Clerkenwell
Clerkenwell's most distinctive feature is the 500 year-old St John's Gate. There are also a number of narrow passageways and alleys in the area, reminiscent of the most ancient parts of the City to the south. St John Street runs through the area, on it is the Michelin-starred St John Restaurant. Located immediately north of Smithfield, London's meat wholesale market, it is often rated as one of the world's top restaurants and is famous for its offal items on the menu, and "nose to tail" eating. Not one for the vegetarians…
As well as the new parts of the map, the existing area is being updated to reflect the changes in the last few years. The City is constantly evolving, with old office blocks being demolished and new ones built in their place.
Photos – Top: Partial by Jeff Van Campen, Middle: By Cowfish, Bottom: St John's Arch by Peter Gasston