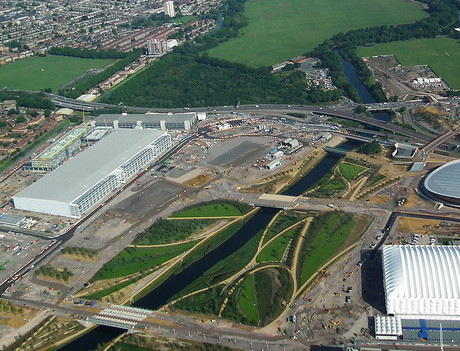 I was one of the winners of the competition run by the Olympic Park Legacy Company (OPLC) to name the five areas of the Olympic Park that will, one day, be new residential areas. I actually entered the competition once for each area, but my "East Wick" was the winning name – it, appropriately, will be the area just east of Hackney Wick, separated by the canal. In the photo above, it is the area in the middle-left, dominated currently by the huge International Press Centre building. The main channel visible is the River Lea, with the green part of the Olympic Park looking nice. On the far left is a bit of Hackney Wick. The canal that separates the Wicks is just visible but has gone green with algae growth.
It is somewhat a misuse of nomenclature, as "Wick" is often used as a post-name qualifier rather than as as a name itself. Research suggests it simply means "town" but, because of the curiously large distance from Hackney Wick to central Hackney, and Hampton Wick to Hampton Court, I've always thought it indicates "far end of". So by "East Wick" I would mean, using my unofficial definition of "Wick", the far end of the "East End" of London.
My final inspiration might have been that the "Witches of Eastwick" was in my mind, as our pub-quiz team at work is called the "Witches of Austwick" – so named as the team captain is Martin Zaltz Austwick.
There's a video on the BBC News website which includes (near the end) a vox pop of various locals grumbling about the name. As one of my colleagues frequently says, "everyone's a critic".
On a related topic I found some CC-By (i.e. only requiring attribution) photos by EG Focus, on Flickr, of the Olympic Park. They are very oblique aerial photos – one is above – but usable to trace rough outlines of the park area, Olympic Village blocks, roads and paths, so I've added these features to OpenStreetMap. The park looks a little greener and a little more detailed now. Photo above is CC-By EG Focus on Flickr.