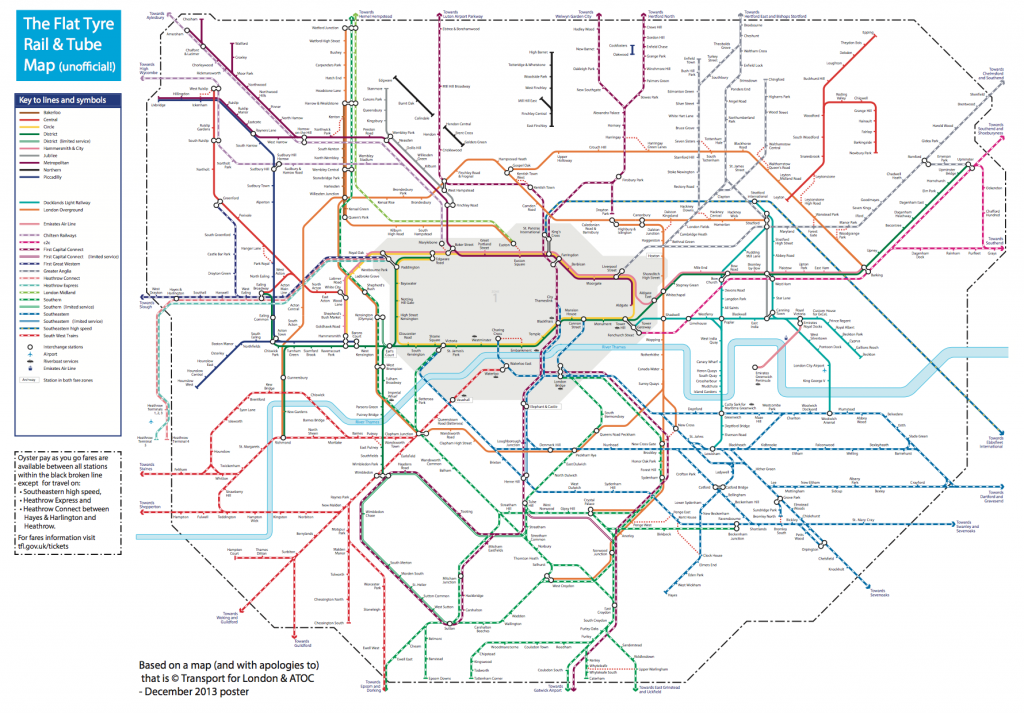 Ever been stuck with a bicycle with a flat tyre, in London but far from home? This has happened to me, many times, including twice in the last week, thanks to the usual combination of rain, grime and broken glass that seems to be endemic at this time of year here. & I don't generally carry a spare inner tube, tyre levers and mini-pump.
Normally, I'm just aiming to get the bike home, where the toolset awaits, but how to do that? Full-size bikes are not allowed on buses, Tramlink, or "deep level" (i.e. bored) sections of tube lines – and until recently they weren't allowed on the DLR either. TfL have this useful map showing where you can take them on their network, but this doesn't include "heavy" rail lines which are generally more accommodating. Here is an equivalent map, but for First Capital Connect trains only.
So, I've modified the combined Rail & Tube Map to get the best of both worlds, and be sure of getting my bike home. Because I'm always looking for the cheapest way to complete such a recovery journey, I've included the Zone 1 area, as a place to try and avoid if possible. The orange-coloured London Overground lines then become very useful. I've also included, as red dots, a number of the "out-of-station interchanges" which aren't normally shown on tube or rail maps, but which allow a by-street transfer between lines while counting as the same Oyster card journey. These make, for example, the GOBLIN (Gospel Oak to Barking LINe) a lot more useful, should you find yourself with a broken bike in north or east London, adding six valid connections which are otherwise unmarked on the main maps.
Most striking is the "hole" in central London, only one line passing through the Circle Line's main loop. The Victoria and Waterloo & City lines are completely gone. A few less useful tube line sections are scattered to the north – I can't imagine many people have ever taken a bike on a train from Cockfosters to Oakwood, for example. Your Oyster card also won't get you to Heathrow with a bike – but then you presumably don't live there anyway. The Central Line terminates just short of Stratford, which is annoying if you are trying to get back from Epping – but an out-of-station interchange at Leytonstone means there is a viable connection after all.
I "fiddled" with the original map in Illustrator – first deleting the banned sections, then rearranging station blobs so that they were connecting with blank space. It should be noted also that, if you end up with a flat tyre and are planning the tube method of recovery, that full-size bikes are banned from pretty much the whole tube network, and most of the rail network, during the weekday rush-hours.
This is a strictly unofficial mashup/modification of the original map which was produced by, and is the copyright of, Transport for London and ATOC. Here is a larger version.
[Update 1: Have added the Dalston OSI as multiple people have asked for it!]