An encouraging announcement from BIS (the Department for Business, Innovation and Skills) a few days ago regarding future Open Data products from the Ordnance Survey (press release here) – two pieces of good news:
The OS will be launching a new, detailed set of vector data as Open Data at the end of this month. They are branding it as OS OpenMap, but it looks a lot like a vector version of OS StreetView, which is already available as a raster. The key additions will be "functional polygons" which show the boundaries of school and hospital sites, and more detailed building outlines. OS Vector Map District, which is part of the existing Open Data release, is already pretty good for building outlines – it forms the core part of DataShine and this print, to name just two pieces of my work that have used the footprints extensively. With OpenMap, potentially both of these could benefit, and we might even get attribute information about building types, which means I could filter out non-residential buildings in DataShine. What we do definitely get is the inclusion of unique building identifiers – potentially this could allow an crowd-sourced building classification exercise if the attribution information isn't there. OpenMap also includes a detailed and topological (i.e. joined up under the bridges) water network, and an enhanced gazetteer, i.e. placename database.
The other announcement relates to the establishment of an innovation hub in London – an incubator for geo-related startups. The OS are being cagey about exactly where it will be, saying just that it will be on the outskirts of the Knowledge Quarter, which is defined as being within a mile of King's Cross. UCL's about a mile away. So maybe it will be very close to here? In any case, it will be somewhere near the edge of the green circle on the (Google) map below…
p.s. The Ordnance Survey have also recently rebranded themselves as just "OS". Like University College London rebranding itself as "UCL" a few years ago, and ESRI calling itself Esri (and pronouncing it like a word), it will be interesting to see if it sticks. OS for me stands for "open source" and is also very close to OSM (OpenStreetMap), so possible confusion may follow. It does however mean a shorter attribution line for when I use OS data in my web maps.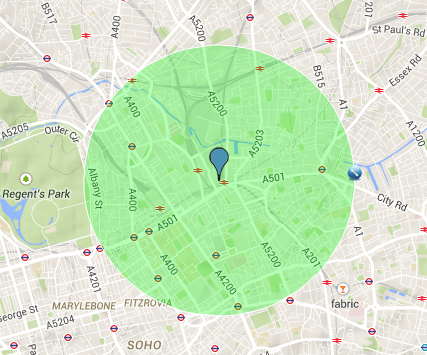 London's Knowledge Quarter