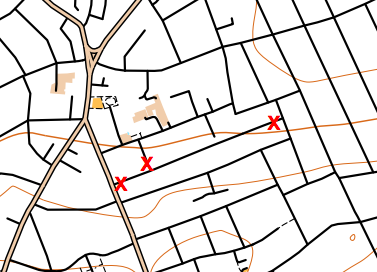 OpenOrienteeringMap 2.2 has been released, with a significant new feature addition – closed route crosses. These allow you to manually mark routes as out of bounds, for example along roads or paths which are private and locked at either end. The crosses are red "X"s, they are added singly, using the same dialog box for adding controls.
It is recommended that you places a little distance away from junctions, so that it is clear which road/path is being marked as closed,(and because the crosses will be sized slightly differently in the PDF that is created). You cannot edit or move existing red crosses, as they do not have an edit button in the control descriptions list, but you can delete all the red crosses you have added with the "Delete Xs" button at the top.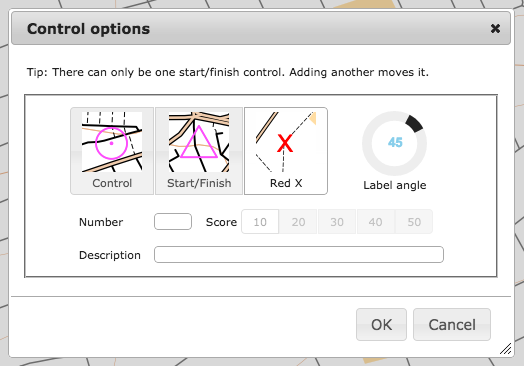 I've also updated the styles slightly:
leisure=garden now included, shown as yellow (open ground). Previously it was shown as olive green (out of bounds) on Pseud-O or as white (not mapped) on Street-O.
Waterways in tunnels (such as canals or underground rivers) are no longer shown.
landuse=greenfield and landuse=brownfield no longer shown, as these are just legal designations.
landuse=construction and landuse=landfill now shown with light pink overlay rather than vertical black lines (Pseud-O) or white (Street-O).
On Pseud-O, fences (barrier=fence) are now shown with the fence symbol, rather than the wall symbol.
On Pseud-O, sports pitches no longer automatically have a fence shown around them.
The styles are open source, in Mapnik XML format, and can be found here on GitHub.
Why not try out the new feature now!
The OpenOrienteeringMap service is giftware. If it's useful for you, it helps you run a successful event, or saves you time mapping, please buy me something on my gift-list or buy a print. Or buy yourself something through my Amazon store link. Gifts will encourage further development and offset the costs of hosting the site. The styles are open source (see link above) and you are encouraged to adapt them!