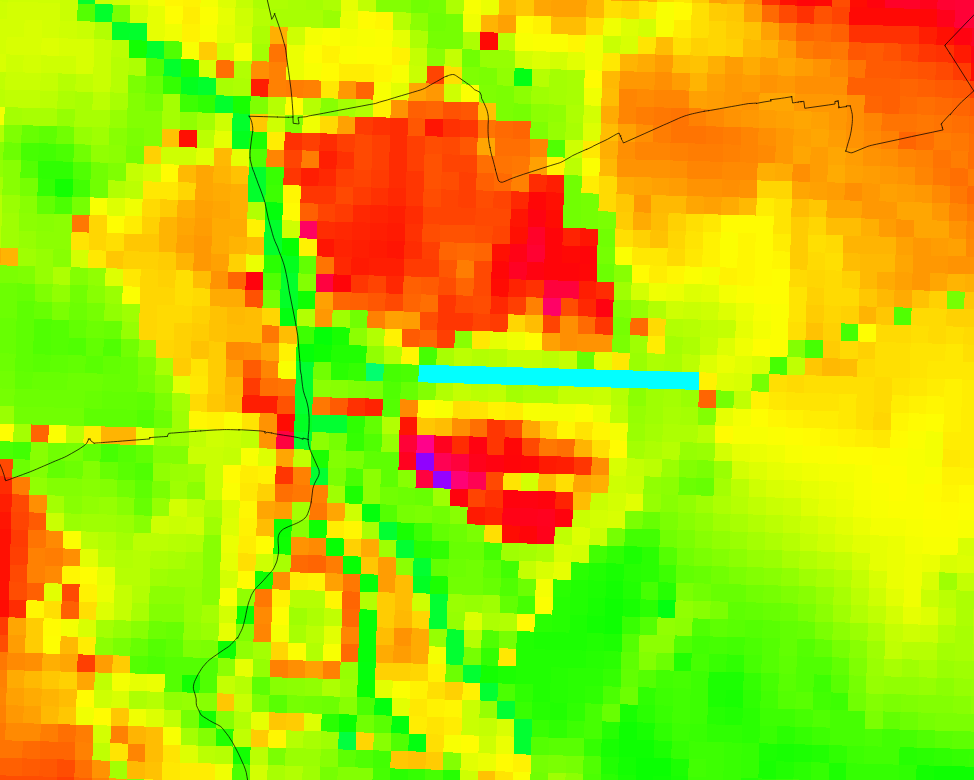 The Diamond Geezer is, this month, climbing the highest tops in each one of London's 33 boroughs.
To find the highest points, he's used a number of websites which list the places. These derive the data from contour lines, perhaps supplemented with GPS or other measurements. However, another interesting – and new – datasource for calculating this kind of metric, is OS Terrain 50. Released as part of the Ordnance Survey Open Data packages, it is a gridded DEM (Digital Elevation Model). It's right up to date, at 50m x 50m horizontal resolution, and 10cm vertical resolution, and it should correct for buildings, so showing the true ground height.
Looking at the DEM for Newham, I think it reveals a new highest point – not Wanstead Flats at 15m above sea level, as Diamond Geezer's lists suggest, but Westfield Avenue, the new road that runs through the Olympic Park. Beside John Lewis, the road rises, to a highest point of 21.6m. It shows as purple in the graphic above. Nearby, the new "bowl" of the lower part of the Olympic Stadium can be seen, as well as the trench through which High Speed 1 runs, at Stratford International Station.
I can't argue with the Chancery Lane/Holborn junction as being the highest ground-point in the City of London, at 21.9m. In Tower Hamlets, it's more tricky. The old railyards between Shoreditch High Street and the lines into Liverpool Street look like they are at 21.7m, however the ground here is not publically accessible, and the DEM is quite noisy here, with only part of the railyard showing this height.
I'm looking for a way to do this programatically – calculating the highest DEM value for each borough. I've tried using QGIS's Zonal Statistics plugin, with polygon shapefiles of London's boroughs, but this only shows the mean value of the DEM for that borough.
Here's the list I've created by measuring – the main issue with my dataset is that the measurements are only at the centre of each 50m x 50m cell.
Borough
Hgt (m) 50m cn
10-digit grid ref
Description of
approximate location
By edge?
Barking and Dagenham
45.3
TQ_48590_89948
Industrial area just E of northern part of Whalebone Lane North.
Barnet
146.1
TQ 21955 95622
Just south of the water tower to the east of Rowley Lane, near Rowley Green.
Bexley
81
TQ 45737 71256
Langdon Shaw, southwest side.
Yes
Brent
91.2
TQ 20732 88877
Junction of Wakemans Hill Avenue and The Grove.
Bromley
246.5
TQ 43637 56487
A233 – where Main Road changes name to Westerham Hill
Yes
Camden
135.6
TQ 26277 86225
Lower Terrace, just off Heath Street in Hampstead.
Yes
City of London
21.9
TQ 30970 81612
NW edge – junction of Holborn and Chancery Lane.
Croydon
175.7
TQ 34330 61827
Sanderstead Plantation, SW path crossroads.
Ealing
81.5
TQ 16177 84398
Horsenden Hill
Enfield
118.7
TQ 25632 97674
Just north of Camlet Way, Hadley Wood, opposite Calderwood Place.
Yes
Greenwich
131.1
TQ 43831 76583
Southern end of Eaglesfield Recreation Ground on Shooters Hill.
Hackney
39.8
TQ 32025 87574
In Finsbury Park, beside Green Lanes, opposite No. 330.
Yes
Hammersmith and Fulham
45.9
TQ 22960 82756
Harrow Road at north end of bridge over the railway line near Kensal Green station.
Yes
Haringey
129
TQ 28326 87479
Ground by Highgate School Chapel, just north of Highgate High Street.
Harrow
153.4
TQ 15288 93808
Magpie Hall Road, between The Common and Alpine Walk.
Yes
Havering
106
TQ 51192 93055
Churchyard of St John the Evangelist church (also Broxhill Road by the cricket pitch)
Hillingdon
130.5
TQ 10585 91678
Junction of South View Road and Potter Street Hill
Yes
Hounslow
33.6
TQ 11320 78815
Western Road – bridge over the Grand Union Canal.
Islington
99.9
TQ 28874 87217
Highgate Hill and Hornsey Lane junction.
Yes
Kensington and Chelsea
45.7
TQ 23014 82728
Kensal Green Cemetery, northern edge, beside the Harrow Road, above the railway line.
Yes
Kingston upon Thames
91.3
TQ 16644 60376
Telegraph Hill
Lambeth
110.9
TQ 33620 70729
Westow HIll and Japser Road junction.
Yes
Lewisham
111.2
TQ 33918 71779
Sydenham Hill and Rock Hill junction.
Yes
Merton
56
TQ 23627 70823
Lauriston Road and Wilberforce Way NW junction.
Newham
21.6
TQ 37967 84530
Westfield Avenue, outside John Lewis in Westfield Stratford City.
Redbridge
91.5
TQ 47945 93784
Cabin Hill
Richmond upon Thames
56
TQ 18779 73065
Bridleway/path junction just east of Queens Road, opposite the Pembroke Lodge car-park and to the NE of it.
Southwark
111.5
TQ 33926 71686
Sydenham Hill, between Chestnut Place and Bluebell Close.
Yes
Sutton
146.4
TQ 28383 59986
Middle of rectangle of land south-east of Corrigan Avenue and south-west of Richland Avenue.
Tower Hamlets
21.7
TQ 33720 82184
Railway yards between Shoreditch High Street station and the railways lines leading to Liverpool St Station.
Waltham Forest
92.2
TQ 38415 95010
Pole Hill (north top)
Wandsworth
60.7
TQ 22881 72780
Big Alp, Wimbledon Common
Westminster
53
TQ 26627 18386
Finchley Road and Boundary Road junction.
Yes