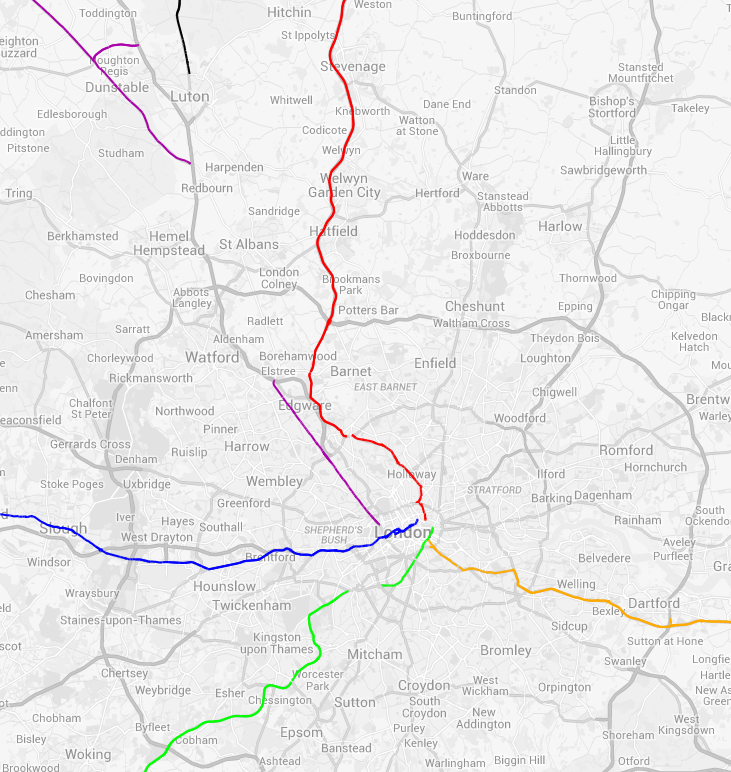 Britain's "top" primary roads – the A1, A2, A3… to A9 – are arranged in a particular pattern, with the A1-A6 radiating out clockwise from London and the A7 to A9 similarly radiating around Edinburgh.
I used Gemma, an old UCL CASA project that Steve and I worked on back in 2011, to draw, from OpenStreetMap, the routes of the A1-A6 as they leave London. The A5 has a gap between Edgware and Harpenden, and the A6 only starts at Luton – both of these changes likely due to the building of the M1 motorway which effectively replaced those sections. Co-numbered roads are not included in the map due to a conflict with the way OpenStreetMap and Gemma separate information. Key for the maps: Red = A1, Orange = A2, Green = A3, Blue = A4, Purple = A5, Black = A6.
Also of interest is that the only two roads that "touch" in London are the A2 and A3, at Borough. The other roads may at one time have converged at junctions, but their starts have been shortened slightly over the years. The big junction at Bank certainly looks like a place where the A1, A3 and A4 could have started from. (Outside of London, the A7 touches the A1 at its northern end and the A6 at its southern end.) Diamond Geezer walked the first mile of the A1-A5 a few years ago.
Gemma still partially works, despite not having seen much love for the last few years and having never made it out of beta (it was a short project). It is recommended you use the OpenStreetMap (or Marker) layers only, to avoid bugs, and watch out if removing layers. You can see the live A1-A6 map here or have a go at building your own.
Key for the maps: Red = A1, Orange = A2, Green = A3, Blue = A4, Purple = A5, Black = A6.
I've blogged about Gemma before (more).
The coloured road lines are Copyright OpenStreetMap contributors and the greyscale background map is Copyright Google.