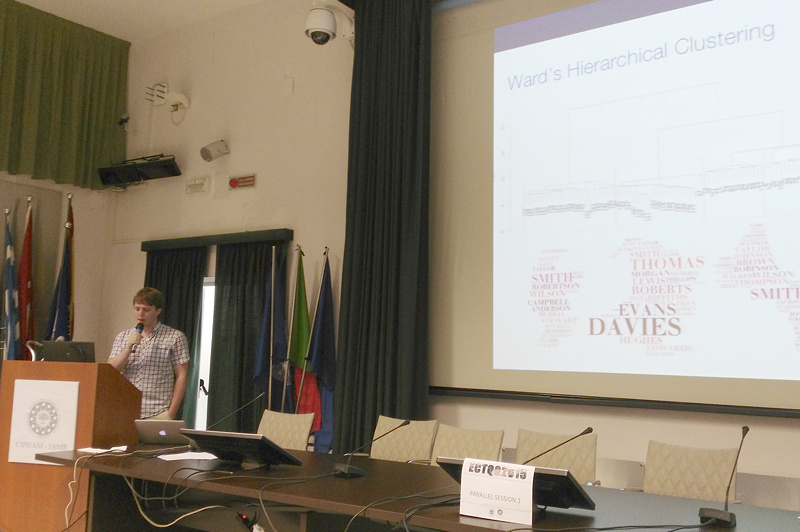 Just a quick report on the 19th European Colloquium on Theoretical and Quantitative Geography, which took place near Bari in Puglia, South-east Italy, earlier this month, and which a significant amount of the quantitative geography group here at UCL attended, including myself. The meeting was held at an agricultural college in a university town a few miles from Bari itself, and was held Friday-Monday, which emphasised the residential nature of the meeting.
A couple of frustrating aspects, which persisted throughout the weekend, were some relatively uneven grouping together of talks on unrelated topics into a single session, and also a relatively large number of talks were included on the programme despite being from presenters who had submitted abstracts but weren't present at the actual meeting, resulting in quite a few gaps or sessions. In one case, the first of three OpenStreetMap sessions was cancelled after most presenters were absent, but the three sessions were later being regrouped (unannounced, so I missed it) into a single session with seven presenters squeezed into the time for five. In another case, one person had been allocated to chair one session while giving a presentation simultaneously in another stream!
Positives from the conference though were the excellent food provided, the weather meaning that several of the meals could be taken outdoors – as well as at the grand gala dinner in a hotel in central Bari. The local feral kittens also provided entertainment, particularly for us Brits who are suckers for such things! We also managed some time off to visit Monopoli, a lovely little town about 30 minutes from Bari, with a pleasant old town and central square, a small (sadly, too small) bikeshare system, and apparently almost completely off the tourist radar.
Next ECTQG is much closer to home – the Leeds part of the CDRC research group that I am affiliated with are organising it somewhere in Yorkshire in 2017.
Above: Alistair Leak discusses Ward's hierarchical clustering for surnames, as part of his presentation at the colloquium. Below: An evening meal outside.