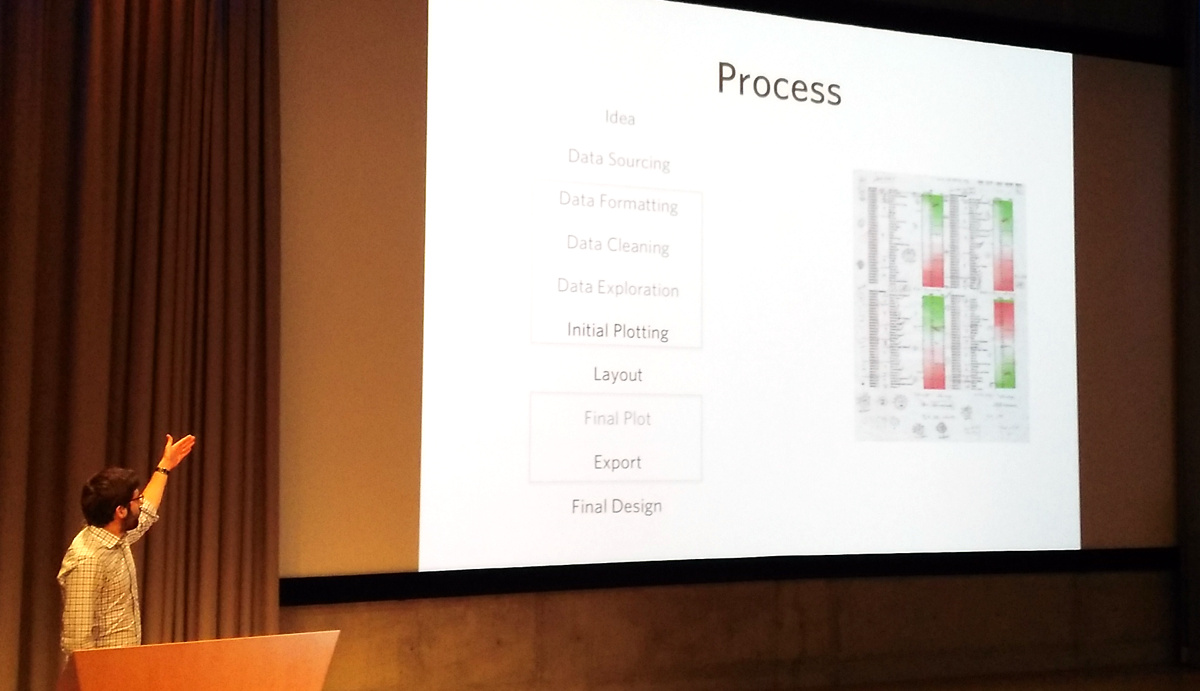 I attended the Cartographic Summit "The Future of Mapping" (#cartosummit) which took place at the Esri campus in Redlands, California, earlier this month. Some notes from the week, which was co-organised by Esri and the ICA (International Cartographic Association). Here are some notes about the event, which I'll continue to add to/tweak over the next few days.
The attendee list included some key names in modern cartography, including Cynthia Brewer, creator of the "ColorBrewer" set of colour ramps which I use widely in almost all my output mapping, such as in DataShine and many of the datasets on CDRC Maps
It was a good natured event. The only map that came in for (justified) criticism from a presenter was – unfortunately – one of my own! Former TIME graphics director Nigel Holmes (below, showing an old US election map) was perturbed to find that my Dwelling ages map seemed to be suggesting that his old house was 50 years younger than he knew it to be. The problem was compounded by some notes he referred to in this blog, which indicated a low proportion of the dwellings on the area concerned were being mapped. It is fair criticism – the detail on my map implies a level of precision that is simply not true – my counter argument being that people like to see maps of recognisable features rather than generalised blobs representing villages and towns. I think what I need to do is revisit the mapping and indicate such low proportion areas using an "uncertainty" indication such as fading out the colour…
James Cheshire of UCL (photo above) presented early on the conference and got straight to the point – that good maps are hard to do and, when they are done right, it's hard to spot the effort and skill that goes into them. The proliferation of bad maps throughout the web is testament to this. He used the production process he developed for his recent book on mapping London datasets, to drive home the additional steps (shown in bold above) needed to turn a good map a great map, and reinforced the need for time – there are plenty of tools out there that allow good maps to be produced, but great maps still need care and attention.
Alan McConchie of Stamen talked all too briefly about the wonderful basemaps produced at the studios, including the famous "Watercolour" digital map.
Gary Gale of W3W looked ahead and reinforced the point that far from being an old-style industry, cartography has never been more current or key.
Ken Fields of Esri gave us a dizzying tour of new cartography that he has been experimenting with over the last couple of years. He also gave a sneak peek of a very interesting looking book that he is currently working on…
There was good academic representation in the audience, however there were some notable gaps. Commercial considerations are understandable but it was a pity there were no representation from Google, HERE, CartoDB or – especially – MapBox. The digital cartography groups within these organisations are producing great things. MapBox, in particular with its huge number of GitHub open source projects such as CartoCSS. MapBox did get a mention in one of the later talks, relating to Esri's ongoing work to implement the MapBox Vector Tiles (MVT) format. The absence is perhaps reflective of Esri being the co-sponsor and host, who may therefore be reluctant to provide the other organisations with a high-profile platform but it still remains the fact that no discussion of modern digital cartography can be complete and representative without including the excellent work by these groups. Having said that, the small guestlist and excellent facilities provided for breakouts and discussion, allowed for good networking opportunities and gave everyone time to discuss cartographical insights with key professionals, an opportunity likely not afforded at a larger, less focused event.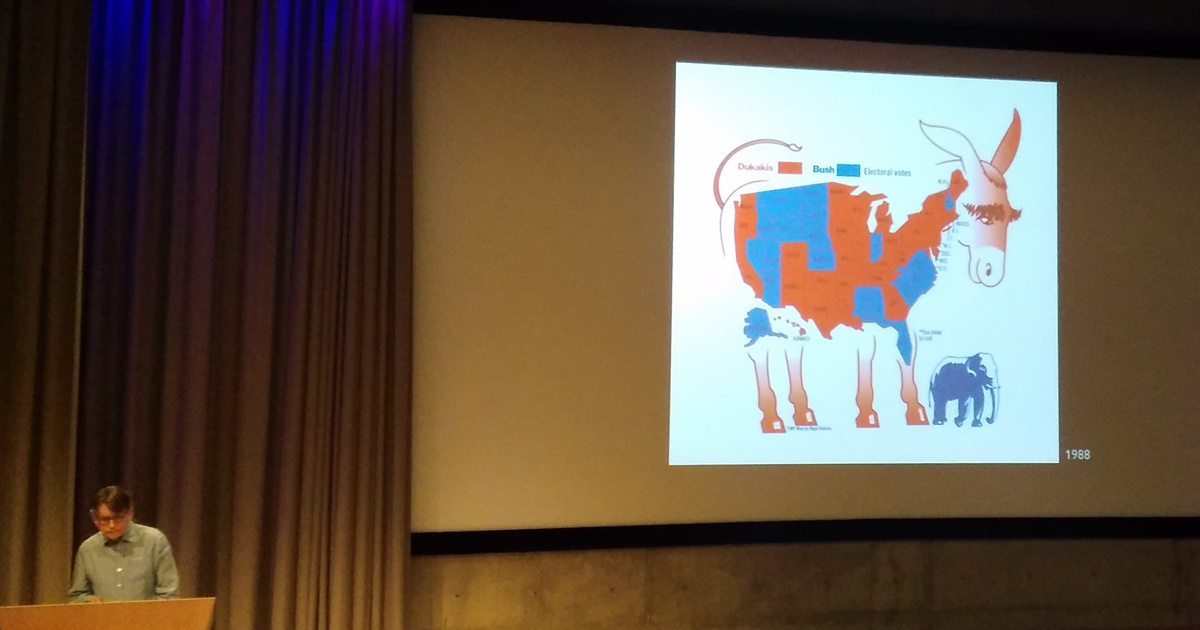 My key take-away from the event is that digital cartography is now more important than ever. The plethora of tools available in the "market" now for creating maps has never been larger, but the need to create maps, which present the data fairly and impartially while engaging the viewer and encouraging them to explore, is just as critical as it has ever been. Anyone can make a map now, but creating a great map is very much a skill.
A very timely, useful conference and very much shows the need for a dedicated cartography track at the major industry and academic conferences in the GIS/geovis/datavis fields.