The UK escootershare trials are gathering speed, with the launch this weekend of Spin in Milton Keynes – the UK's first one where journeys can end almost anywhere in the operating zone, rather than in a limited number of hubs. Ginger and Lime are to follow soon – making this a three-way competitive trial of escootershare for the first time in the UK. Ginger already have a small escootershare in Middlesbrough, and Lime already operate a (recently reopened) electric bikeshare in Milton Keynes, so Spin very much are the new kids in the UK, although they have operated various other escootershares in the world, including over 1200 currently in Washington DC.
So far Spin have deployed around 100 escooters, across much of Milton Keynes. The town is large, with a unique (in the UK) structure of 1km square communities connected by a grid of fast (typically 60mph) roads, but with an extensive but little used "redway" parallel cycle network that also joins the communities together but on more wiggly routes. Escooters in the trial can use the same facilities that cyclists can. Hopefully this will lead to a better use of this part of the town's infrastructure – although interestingly the scooters are allowed on the grid roads too. Only the motorways and trunk roads roads (A5 and M1) are explicitly banned for scooters to go on, in the app (although this also therefore blocks some cycle paths that cross these roads). Users also cannot go in the pedestrianised shopping precient in the town centre, and can ride in, but not end, journeys in the city parks: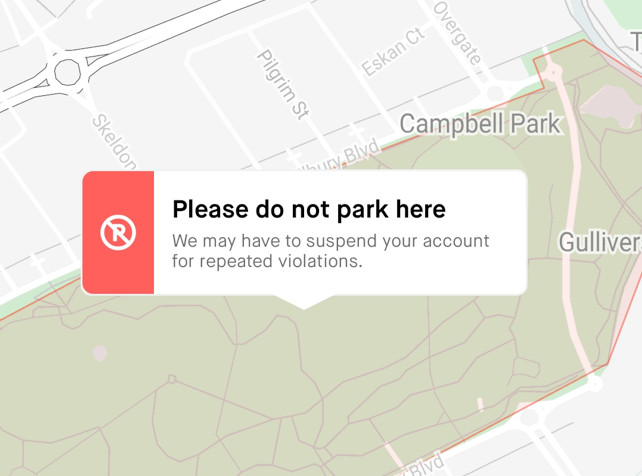 No word yet on the Ginger and Lime launches although I would imagine they would be pretty soon in order to not allow Spint to get too entrenched. Ginger recently announced over 15000 miles traveled on their escooters in Middlesbrough which is excellent usage levels for their 50-scooter trial there which has been running for just over a month (4o days). Assuming an average journey of 2 miles (generous – 1-1.5 miles is more typical), that suggests getting on for 200 journeys a day, or 4 per scooter per day. Anything over 2 is a good social use of the asset, and if approaching 4, then that is a good economic use of it as well (i.e. potentially viable for a purely commercial operator). This is a rough calculation, of course, and may include retrievals of the scooters by operators where users didn't leave them in the hubs. However, with Ginger having suffered numerous operational incidents, this must have been a bit of a relief for them and also demonstrate that escootershare in the UK might well be bigger than anyone has realised. It's going to be an interesting autumn.
| | | | | |
| --- | --- | --- | --- | --- |
| Location | Operator | Number | Status | Type |
| London's Olympic Park | Bird | 15 | Suspended | Hub-based (3 hubs) |
| Middlesbrough | Ginger | 50 | Operating, restricted hours | Hub-based (3 hubs) |
| Milton Keynes | Spin | 110 | Operating | Dockless |
Currently escootershares in the UK, as of 23 August 2020.