This is one in a series of posts about possible High Lines for London. Look out for the next one tomorrow.
One problem with a High Line for London is that we never had very many abandoned, elevated railways in London. The capital largely escaped the so-called Beeching cuts of the 1960s, when many rural and other little-used lines were closed. After these cuts, laws were changed to make the closing of railway lines much harder to do, so even when railway usage reached its nadir in the 1980s, few additional lines were closed. Since then, number of peoples of trains have soared, particularly in London, and there is virtually no prospect of any existing lines being closed in the foreseeable future.

Perhaps the most promising candidate for a High Line was one of the few lines that were closed – the elevated railway between Broad Street (beside Liverpool Street Station) and Dalston in north inner-city London. In fact, the line survived Beeching, but succumbed to closure in 1986. The route lay abandoned for many years, with some of its bridges removed but otherwise being largely intact. However, instead of turning into a High Line type walking route it has in fact recently (2006-11) been turned back into a railway, the East London Line Extension (ELLX), arguably more useful and certainly acting as a catalyst for the regeneration of the Dalston/Haggerston/Hoxton area that it runs through.
The new line has a different characteristic to many of London's lines that act just to get people in and out of the central core. Instead of its central London terminus beside Liverpool Street Station, the line takes a sharp left across a set of new bridges in Shoreditch (see below), linking up to the old East London Line. This is part of a new orbital London railway, the London Overground, and is already very heavily used. So, while London's best candidate for a High Line was lost, the benefits of turning back into a real, working passenger railway have been quickly realised.
A short abandoned elevated link remains between the Broadgate Tower/Estate – now built across where the old central terminus station was – and where the turn across Shoreditch is – now blocked by Village Underground, a popular music and arts venue which notably has some old Jubilee Line tube carriages on its roof (see below on left) as workspaces. The link however it very short, barely 100m long, so not really viable for the creation of a High Line. You can the remaining link as the patch of green in the foreground on the left below.
You can still experience the "High Line" feel, passing by the second floors and roofs of old industrial buildings and loft apartments, with excellent and unexpected views across to central London, by travelling along the East London Line Extension between Dalston Juction and Shoreditch High Street – just that it's in a train rather than on foot. The new stations, particularly Hoxton – have developed a "High Line" style coffees-amongst-brickwork feel to them. The trains are modern and airy, and run every few minutes. It's not quite the same but it's probably, in terms of area and feel, the closest that we have right now.
See also: This note from Paul Mison.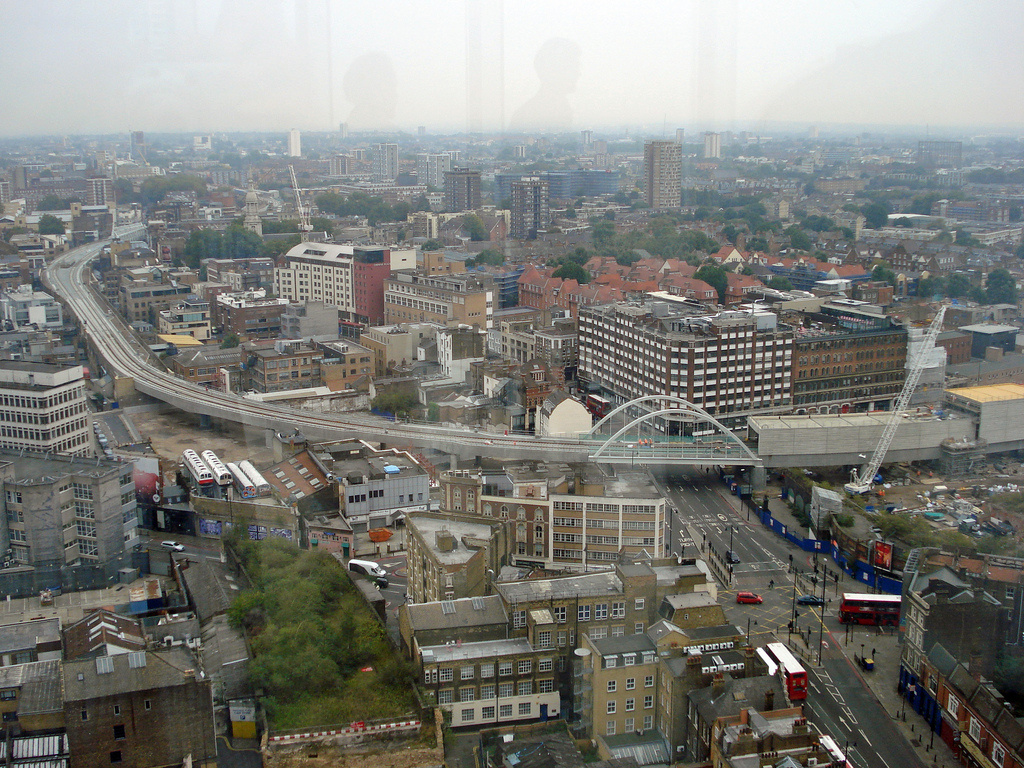 Top photo: The view from Hoxton station, one of the new stations on the East London Line Extensions. Below: Looking at the southern end of the Dalston-Shoreditch part of the East London Line extension, from Broadgate Tower. Photos by Diamond Geezer. Map is Copyright OpenStreetMap contributors, ODbL, with cartography CC-By OpenStreetMap.