London has been looking for its High Line, the elevated abandoned railway line in inner-city New York City (above) that has become a pleasant linear park, huge tourist attraction (I made a specific point of visiting on my recent trip) and regeneration stimulus in a brick-warehouses-and-cyclists part of Manhattan. Gliding peacefully above the busy traffic, moving through buildings and alongside wild flowers, the experience is rather surreal, and, on experiencing it, it's easy to see why it's been such a big hit.
What are the options?
Over the next twelve days, starting today, I'm going to outline twelve ideas for London "High Lines" – some of which already exist, some of which had a chance of being a genuine High Line but recent events took them in a different direction, and some which have potential. On the last day I'll unveil the one which I think has the most potential, for a number of reasons, but which, curiously, little has been written about so far.
What is a High Line?
A "High Line" needs to be a route which is traffic free, not broken up by road or railway crossings. It is a route which is not designed to be a commuter link or an otherwise "fast" route, so with no opportunities for cycling at speed along it. And it is a route which allows to see a densely populated part of a city in a new way, the novelty and theatre of the route created by maximising the contrast between the mean, traffic-choked city streets below and soaring buildings above, and the green oasis of the route itself.
But with the winning entry in a recent competition being an underground walk, we probably need to go back to the drawing board.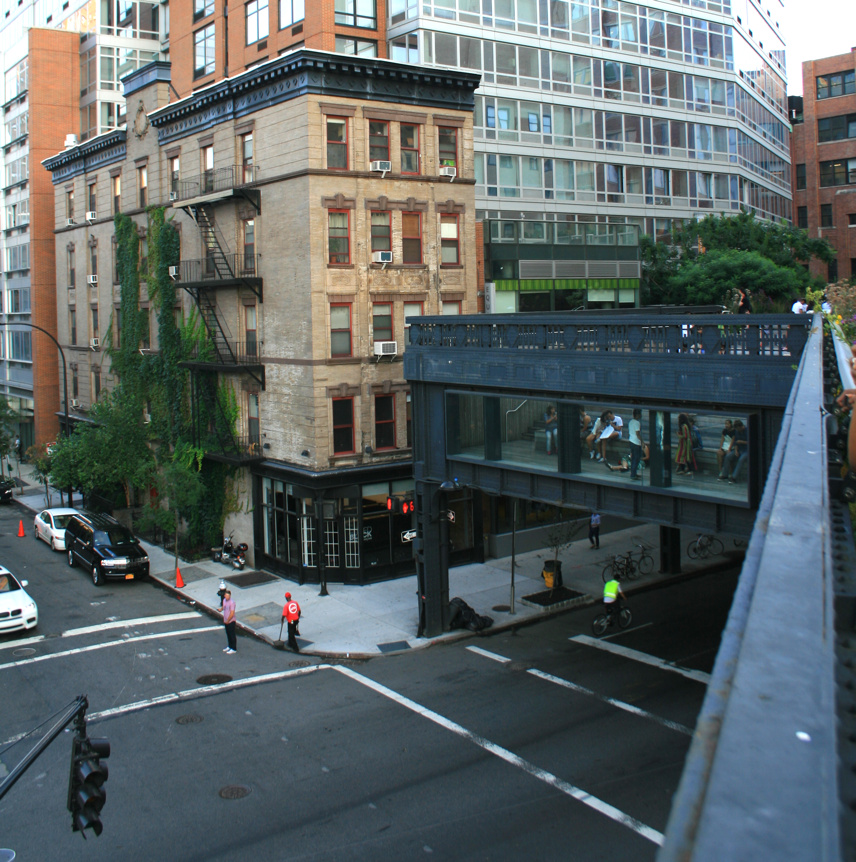 Top photo: The High Line in New York. Old rails embeddded in wooden planks and surrounded by wildflower gardens, all two storeys above the Manhattan streets. Lovely. Bottom photo: The street "theatre" view, created by the line kinking across a street by a junction.