This is one in a series of posts about possible High Lines for London. Look out for the next one tomorrow.
The Barbican is a huge 1950s/60s housing development in the "raw concrete" Brutalist style which divides opinion (personally, I love it). The concept of the Barbican is having the pedestrian level on two "podiums" 4-6 metres above the car/street level, entirely separated from traffic. Connections between the podiums and the street level, and between different parts of the estate, are via "Highwalks". These walkways in the sky are in fact legally considered public streets, and if you are familiar with the geography of the Barbican, are a pleasant way to pass through part of the City without encountering traffic.
The Highwalks are shown as orange lines on the estate map below. Some have actual orange lines painted on the ground, these are to help visitors, who are unfamiliar with the complex 3D nature of the walking routes in the area, to make it to the Barbican Art Centre – by following an orange line from an entrance to the estate, you should find your way there. One of these orange lines can be just made out on the far left in the photo above.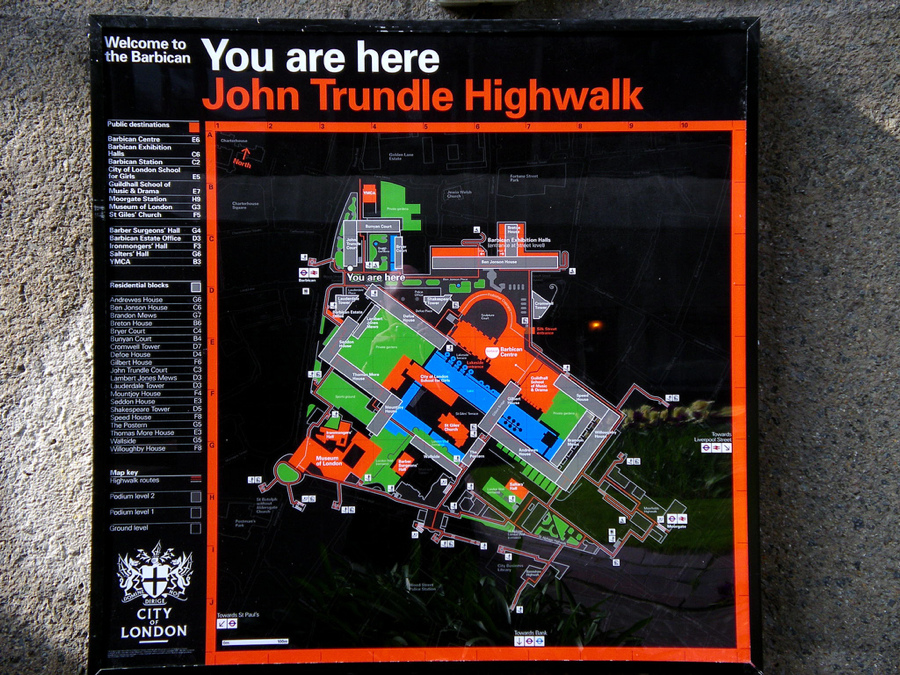 One section of the Highwalks near the Barbican that has recently disappeared, is a triangle of land near London Wall, that used to connect the predominately residential Barbican to the Guildhall. This has recently been demolished for a new complex of office towers, London Wall Place. Thankfully, the raised sections will be coming back, as a nice looking long bridge, passing through the new buildings and restoring the connection between London Wall, the Barbican's own network of Highwalks and podiums, and the Guildhall and rest of the City. The temptation these days, surely, must be to improve the pedestrian realm at street level, as ultimately that's where people want to be, but it's good to see that, in this case, the "first floor" pedestrian level will live on, as a route from which to observe the buzz of the city below.
Map: Phil Gyford. Bottom photo: London Wall Place.