This is one in a series of posts about possible High Lines for London. Look out for the next one tomorrow.
Complementary to the Highwalks of the Barbican, the concept (originally called Pedways by the 1950s planners) was intended in fact to spread throughout the "Square Mile" of the City, of which the Barbican formed the northern edge. For several years, new offices were required to have an entrance and lobby on the first floor, as well as on the ground floor as normal. In time, a network of Pedway bridges would connect the offices to each other and provide a complete alternative network of pedestrian routes around the City. Such 1950s utopian ideals never came to pass. There is a great video here about the rise and fall of Pedways and the 1950s buildings that accompanied them. Outside of the Barbican, the few Pedways that did get built are gradually being removed as the 1950s buildings alongside come to the end of their lives, however a couple of significant fragments in the City remain, both of which I feature here. It's unclear how long they will remain for, but for now they remain a fascinating and hidden way to move around and explore London's financial district without having to cross roads.
The first is the link that runs behind Tower 42 (the former Natwest Tower). It used to head east to what is now the Gherkin, however the bridge here (across Bishopsgate) was severed when the Pinnacle construction started. The Pinnacle project was then cancelled and the concrete stump is now disappearing again, to be replaced by another skyscraper – but with no bridge link restored. The other link heads north, right through the Lloyds Banking Group building, before coming to another bridge across a busy road. This is still there – for now – but leads to a dead-end, as its steps down were recently removed. So, the urban explorer here has to take the steps down just before the road.
The other is an even less well known link that leads directly from The Monument (to the Great Fire of London) to one of the best views in London – an elevated, river-bank view of Tower Bridge from the elevated plaza at St Magnus House. It passes through a couple of buildings, one on each side of Lower Thames Street, before opening out to a podium for the view, and a convenient staircase (ignored by the great majority that pass below it) that then drops directly down onto the Thames Path.
Iain Targett walked both of these routes, as well as one of the Barbican routes, and documented what they looked like in this photo set.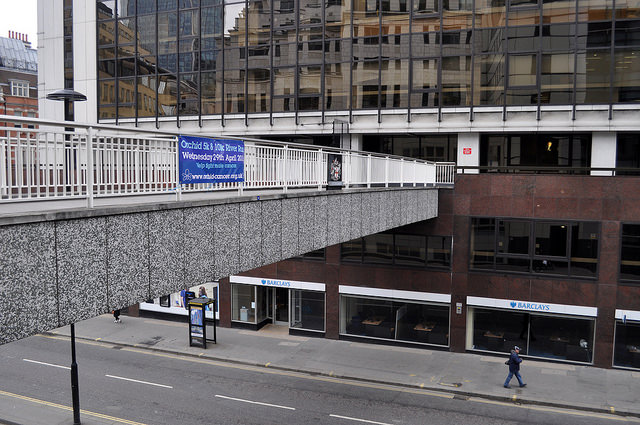 Top and bottom photos of the Tower 42 Highwalk, both by Steve Keirestu. Map Copyright OpenStreetMap contributors, ODbL (data) & CC-By (cartography).