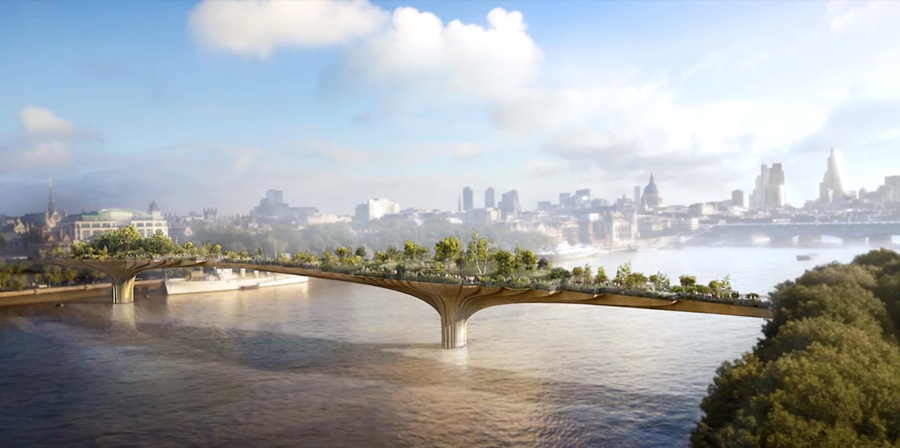 This is one in a series of posts about possible High Lines for London. Look out for the final one – my big idea for a High Line that I think has real potential – tomorrow.
[Update: cancelled]
Well, this is a controversial one. It's not a structure that exists in any form (let alone being abandoned), it has nothing to do with railway lines – although the landing on the north side is on the roof of Temple station – and it is a high-profile project with influential (& wealthy) backers but also significant opposition. It's the Garden Bridge, a pedestrian, daytime only bridge to meander along, linking Temple/Strand to South Bank.
It fulfils many of the High Line concepts – it is a private initative to add something "nice" to London. It is substantially privately funded and would be run by a trust. Being a bridge, it certainly affords great views of London. It would be intensively cultivated with trees and flowers to encourage meandering and dawdling rather than it becoming a commuter link (the nearby Waterloo and Blackfriars bridges cater well for that). And finally, it would have tightly controlled access – no cycling, large groups/gatherings, or access after dark.
It is this last point – that it would be a privately owned/managed and controlled space, muscling into a highly visible location in central London, but partially funded, and guaranteed, by public funds – that has proved controversial. However, as long as the governance is appropriately inclusive, i.e. representing the concerned bodies as well as the sponsoring ones, and appropriate covenants were added, e.g., dedicating free public access during daylight hours, every day of the year (no daytime closures for private parties), and income private evening/night time events on the bridge went partially back to public funds, then much of the opposition would maybe be quelled. It certainly doesn't blend in to the surroundings and its location/height may spoil views of the City from Waterloo Bridge, but if it ends up looking like the impression above, it would be fantastic – another London green space which is (mostly) dedicated to the public, and a wonderful, free London facility for contemplation and enjoyment of the outside. I hope it gets built.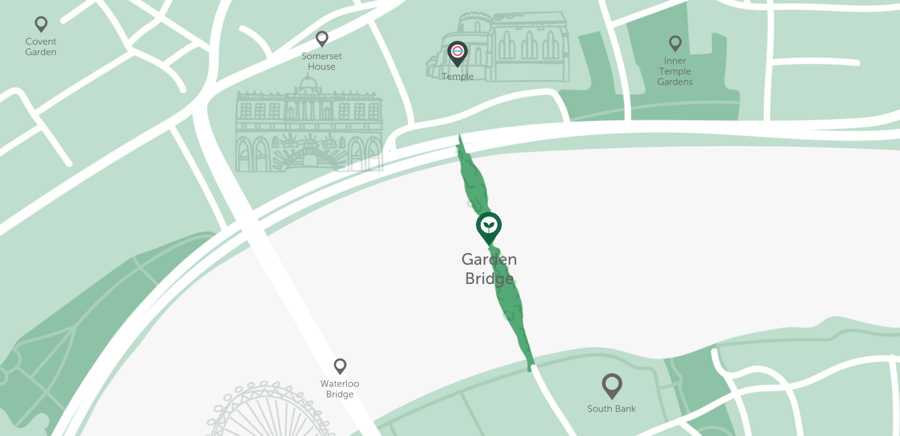 Postscript: There is another "Garden Bridge" already in London – the Green Bridge that crosses the A11 road by Mile End station (it's actually bright yellow, underneath), linking the two halves of Mile End Park. Originally it had trees growing on top of the bridge itself, however the soil was not deep enough to allow the roots to build and the trees to flourish, so sadly they have been replaced with just grass. Hopefully the designers of the Garden Bridge will have learnt from the mistakes of the Green Bridge and, earlier, the Barbican Estate's waterfall.
Photo/map from the Garden Bridge website.