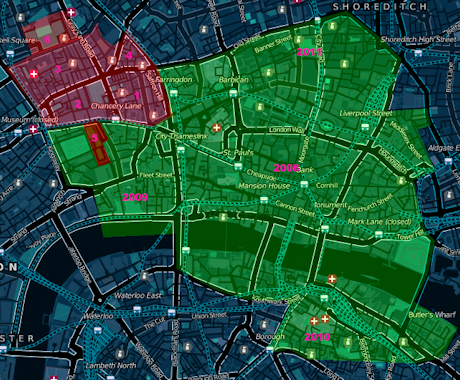 Yes, the fifth running of the City of London Race, the world's second biggest standalone urban orienteering race, will be happening, & as for previous years, I will be occasionally be blogging about it, as the mapping progresses.
Here's the new bit I am planning on mapping this year (in red), along with what is already mapped (in green). The mapped area now far exceeds what will fit on the A3+ paper, so the red section actually represents around a third of the what will appear on the 2012 map. Another important caveat is that access agreements are still being negotiated, so it is not a 100% certainty that this is what this year's map will look like.
The areas:
Hatton Garden. London's jewellery and diamond quarter, with an interesting set of side-alleys.
Gray's Inn and surrounding area – the former subject to access.
Great Ormond Street – the area around the famous children's hospital.
Mount Pleasant – the area around the huge Royal Mail facility.
Lincoln's Inn – subject to access.
Corram's Fields. A backup area, in case we have to move our race HQ to around here – this is not our Plan A though, and we are keeping our preferred race HQ venue under wraps for now – it is cool though! Junior courses would then be in this park, which is particularly apt as adults are only allowed into the park when accompanied by a child!
Map from Cloudmade, contains OpenStreetMap data.